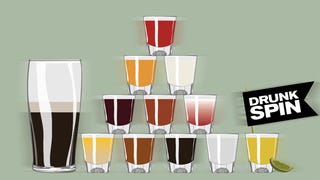 Good afternoon! Let me tell you how to run your wedding. Just kidding, no one cares about your wedding. Now, back to my wedding: We sprung for the all-you-can-guzzle beer and wine buffet, but we didn't serve hard liquor. This is partly because we're cheapskates and partly because we're sane—the reception was at a medium-nice bar stocked with all sorts of expensive booze. We knew it would be soul-crushing to set rules about which colors of Johnnie Walker we'd pay for, and we feared it could be wallet-crushing to declare open season for Scotch trophy hunters, so we decided on an across-the-bar hard liquor embargo.
In retrospect, we probably needn't have worried about the money; our friends are mostly drunkards but also mostly bottom-feeders who are too appreciative of a free indoor drink to get particular about its pedigree; there were a couple dozen beers on tap, but the house yellow seemed to flow most freely. Plus, I don't want to seem immodest, but let's just say we've got a $150 toaster oven. We could have sprung for Rubinoff and tonics.
But that wouldn't have addressed our overriding concern: The unmanageable shitfacedness that shots would have wrought. I need to tread lightly here, because I'm still trying to shake the killjoy reputation I earned with my opposition to drinking games, but the time has come for me to suggest, with great humility and no judgment, that perhaps not every shot you've taken in your life has been a perfect decision.