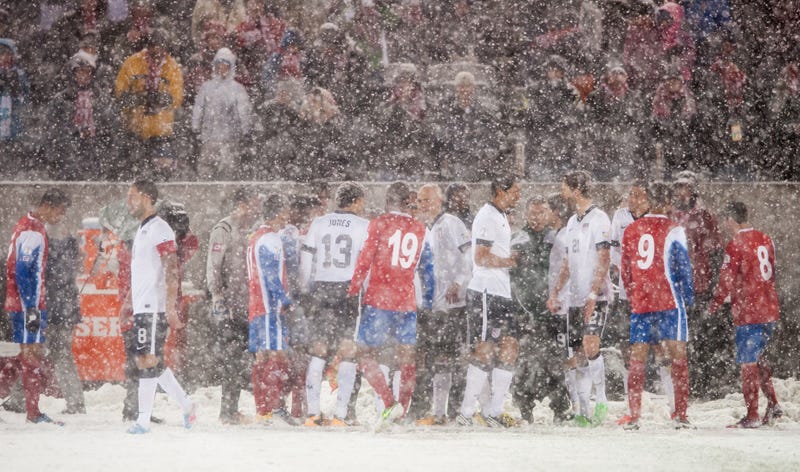 On Friday, the U.S. national team takes the pitch in Costa Rica for a World Cup qualifying match. The Costa Ricans are making it as difficult as possible, denying them training grounds and even going so far as to refuse them game balls for practice.
This is payback for the "Snow Game" in Colorado back in March, when officials continued the match despite the protests of the Costa Rican side. The U.S. won that one 1-0, and Los Ticos have apparently been plotting their revenge this entire time.
It started at the airport.
Told that for past WCQs, USSF got priority lane in CR immigration. Not today. CR Gov't plans to line them up w/ everyone else. Snow revenge.

— Brian Straus (@BrianStraus) September 3, 2013
Here's what the USMNT had to deal with:
Then it was off to find a place to practice.
Costa Rica fed recommended 3 training sites for US to use. All 3 turned the US down, forcing US to find one on its own. #usmnt

— Jeff Carlisle (@JeffreyCarlisle) September 4, 2013
Now, about those balls:
Gamesmanship central: Costa Ricans didn't provide game balls to US for training per usual protocol. (US using its own Nike balls instead.)

— Grant Wahl (@GrantWahl) September 4, 2013
It won't get any better on the day of the match.
According to @jrmiranda_goal, cab drivers have agreed to slow traffic to a crawl on Friday, blocking the #USMNT's route.

— Eric Gómez (@goaleric) September 4, 2013
This should be a fun one. The USMNT is 0-7-1 all-time in qualifiers in Costa Rica, and before March, hadn't beaten them anywhere since 2005. On the other side, CR is still smarting from Jonathan Bornstein's 95th-minute goal in 2009 qualifiers that bumped them out of the World Cup. Jürgen Klinsmann calls it the "biggest game in the year 2013." The Costa Ricans are ready too—check the front page of yesterday's paper:
"We're expecting you..." The cover of today's Al Dia: pic.twitter.com/Apv9kX37Nd

— Brian Straus (@BrianStraus) September 3, 2013