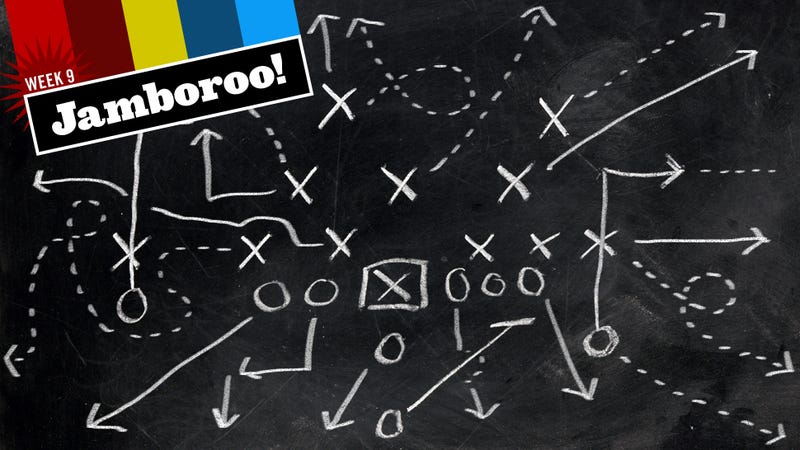 Drew Magary's Thursday Afternoon NFL Dick Joke Jamboroo runs every Thursday during the NFL season. Email Drew here.
I watch lots of football and I played football (poorly) as a kid but I'm gonna tell you something that probably won't surprise you: I don't REALLY know that much about football. I know the formations. I know the rules (USUALLY!). I know who all the players and coaches are. I know the basics.
But when I was a benchwarmer and my coaches tried to explain what I was supposed to be doing should I (in the event of some kind of devastating traveling-team bus crash) need to take the field, I was fucking hopeless. I had no idea how to process any of our offensive playbook. I lost track of which audibles meant what. If the defensive line did some crazy stunting action in front of me, I reacted like a leghorn chicken that had swallowed a coffee cup full of crystal meth. OMG WHAT IS HAPPENING THEY AREN'T ALLOWED TO DO THIS ARE THEY?
As an adult who watches the NFL, I don't watch the all-22 film. I don't study tape. I don't REALLY know who deserves to be an All-Pro and who doesn't. Watching Edge NFL Matchup gives me a fucking headache. I don't watch anything but the ball during gameplay. Every player and coach out there knows LOADS more about the intricacies of gameplay than I do. Even goobers like Peter King and Pete Prisco and Gregg Easterbrook and other columnists who watch tape of every game every week (or purport to) all probably know more about football than I do, and that's fine. I don't give a shit.
We live in a sporting culture where "You clearly know nothing about football" is just about the worst thing you can say to another football fan. People take real umbrage when you accuse them of not knowing the game. Virtually every talk radio segment and message-board flame war is a fight between fans to prove they know more about football than everyone else present. It is one gigantic dick-measuring contest out there to be the guy who has watched the most tape and has evaluated the most players and can make the most persuasive argument that Joe Montana made Jerry Rice better or vice versa.
And it's all horseshit. There's no real way of telling who knows more about a sport than some other asshole. And even if you were the most knowledgeable fan in the game (how many times have you heard some asshole compliment a fanbase by saying they're knowledgeable?), it's not like you get some kind of prize for it. Your prize is being a haughty dipshit. Congrats.
The truth is that you don't have to know every last goddamn thing about football (or any sport, for that matter) to enjoy it as much as the next guy. It's obviously fun to learn more about the sport as you get into it, but that's not what this is about. This is about guys who study up on football specifically so that they can say they know more about the sport than you. You don't have to feel inferior to that particular, ESPN-bred type of asshole. You don't have to feel inferior just because your ad-hoc scouting report on your team's draft pick turned out to be inaccurate, or because you made a dumb preseason prediction, or because you didn't know who Justin Houston was before he started tearing shit up this season (I didn't). It's fine. Your fandom is just as worthy as some know-it-all dickhead's fandom. It's no crime to be a bit more casual about all this, to accept that you aren't a fucking mastermind and just enjoy the game as a civilian.
Watching sports is an exercise in fantasy (especially if you have a literal fantasy team). You watch and you picture yourself as a player, or a coach, or a GM, or even an owner. And the more you "know" about the game, the stronger that fantasy becomes. You become more convinced that you COULD be a coach or a GM and that you really DO know more than the boob currently running your team, but that's almost always an illusion. It's a never-ending attempt to place yourself somewhere you cannot be, and it gets tiring after a while. I love football. I love watching it. I love obsessing over it. But I'm no oracle when it comes to this shit (not that anyone confused me for one). And that's good. You're free to be ignorant. You're free to be wrong. Because being some kind of official football expert means turning into THIS GUY:
You don't want that.
The Games
All games in the Jamboroo are evaluated for sheer watchability on a scale of 1 to 5 Throwgasms.
Five Throwgasms
None. Another shit week of shit games in your shit life. They may as well play ALL of them in London.
Four Throwgasms
Bengals at Dolphins: There are few things worse as a football fan than the dreaded Late Fumble Realization, which goes like this: The running back takes the ball, gains a few yards, the whistle blows, and roughly an hour passes before players start jumping around the pile going apeshit and the play-by-play guy says, "And now the Bengals are saying the ball is out!" And you're like, "What? No. That can't be. The play ended an hour ago!" And then they show the replay and it's clearly a fumble and you want to die. I prefer my turnovers telegraphed. I don't like the horrible twist ending to a seemingly normal play. It hurts my body.
Falcons at Panthers: It's been eight weeks and they haven't done anything about the dark panels on the new Pro Combat uniforms. If your team has a dark jersey, the new unis make it look like your pits have released a gallon of sweat down the sides of your body. And the front panel makes it look like you've had sweat creep up from your pubes. It looks really bad. I KNOW FASHION.
Three Throwgasms Saints at Jets: Hey, wondering what Terrell Owens is up to lately? Turns out he's going to be on a very special edition of Iyanla: Fix My Life on the Oprah network:
Tell me that promo doesn't look like an old Chappelle's Show sketch. If you tossed in a laugh track the second TO starts crying, it would be perfect. "What if your NFL career is over?" There's no "if" to be had in there, sweetheart.
Chiefs at Bills
Two Throwgasms
Bears at Packers: My kid found a caterpillar the other day that was easily two inches long and as thick as a piece of chalk. We picked up with a stick and watched it curl around and I'm so used to cute caterpillars in kiddie books that it took me a while to remember that a caterpillar is nothing more than a maggot with legs. It's a grub, only it has fur, which makes it even more disturbing. I nearly threw up thinking about it. Anyway, we set the caterpillar free, after which I presume it crawled into the woods and transformed into a fucking dragon.
Chargers at Skins: Until I saw the highlights, I had completely forgotten that last week's Skins-Broncos game was a homecoming game for Mike Shanahan. WHAT AN EMOTIONAL RETURN THAT WAS. I think Shanny waved to the crowd for about half a millisecond before getting back to the business of letting his quarterback get killed.
Colts at Texans: They'll probably never find a way to pay a stipend to college football players (I think they should just be allowed to collect whatever merch royalties they want), but if they did ... what if they decided to get rid of eligibility restrictions? If you're gonna treat college football like the professional enterprise that it is, they may as well get rid of the notion of eligibility altogether.
That way, a pro washout like Timmy Tebow could Jesus it up at Florida for as long as they'll have him. Big colleges could become real semi-pro outfits, with guys making a long career out of playing ball and nailing coeds. And then the NFL could call players up at any time if they were veterans with more than five years of college ball experience. And then smaller colleges would get better players because young studs wouldn't want to have to fight for a starting gig at some big-name school with a bunch of 30-year-olds on the roster. WE COULD SHIFT THE WHOLE PARADIGM, PEOPLE. Just kidding. It's a horrible idea and it would ruin everything. But oh, how I'd like to beta test it for just, like, a decade. I don't think 10 years is much to ask for.
Steelers at Patriots
Ravens at Browns
One Throwgasm
Vikings at Cowboys: My team has no quarterback and I would like them to draft Johnny Manziel. I know that Manziel is short and that he will be drafted about five spots lower than he ought to because of this (his GLORY BOY drinking will surely also cause scouts to shake their heads in disapproval), and then he will go out and be good and everyone will feel like a fucking idiot for not drafting him sooner. I already know my team will elect to draft a lineman in the first round and give Josh Freeman one more extended season-long tryout instead of drafting Johnny Football because my team SUCCCCCCCKS. Drafting Johnny Football instantly means that your team will matter, and I need that so very desperately.
By the way, I was guilty this week of being one of the HOT SPORTS TAKE providers who expressed public disapproval over Dez Bryant's "tirade" on the sidelines during the Lions game, only to be proven completely wrong. I'd like to think that I made the assumption strictly because Dez Bryant has a well-known history of being a crazy person, but I know the truth. The truth is that I probably engaged in SIDELINE RACIAL PROFILING, which makes me a bastard. I bet poor Dez was just offering Jason Witten some Skittles. In my defense, I always despised Dan Marino for bitching out everyone after throwing a pick. AND SOME OF MY FAVORITE PLAYERS ARE BLACK IT'S TRUE.