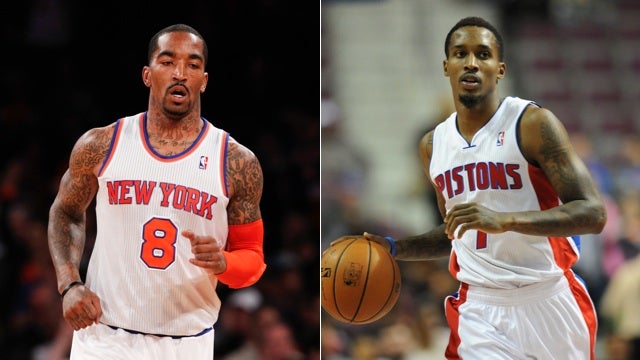 The fact that J.R. Smith's little brother occupies a spot on the Knicks' roster is and always will be a sad joke. This truth is not lost on Pistons point guard Brandon Jennings, who last night sent a since-deleted tweet expressing incredulity at the existence of Chris Smith's NBA career.
RT @BrandonJennings: Wait wait wait JR smith brother is in the NBA but @PoohJeter & @BBROWNLAU isn't. Call me hater but not Rollin!!!

— Holly MacKenzie (@stackmack) November 14, 2013
It turns our that J.R. Smith does not abide subtweets meant to disparage his brother, so he fired back:
No respect for these lil kids who pop at the mouth on twitter an then want to delete they tweets! #GrowUp! #ManUp! @TheOnlyCSmith0 #Facts!

— JR Smith (@TheRealJRSmith) November 14, 2013
J.R. followed that up with another tweet, which he later deleted, in which he seemingly threatened the entire city of Detroit. The tweet read: "Might call some of my Number street homies an put #Detroit on smash for a min! #DeadSerious" Alrighty then.
For his part, Brandon Jennings was like, "Hey, maybe we should calm down a bit?"
Don't hype this it's not beef. It's just basketball talk. I know how twitter get!!!

— BRANDON JENNINGS (@BrandonJennings) November 14, 2013
Not so fast, Jennings! When J.R. Smith puts you on smash, you stay on smash:
Here we go sub tweeting again! I didn't hear nothing when @joshselby32 got in them pockets! Money on me all day everyday go get who u want!

— JR Smith (@TheRealJRSmith) November 14, 2013
And that was that. Good beefing, everyone.
[PBT]