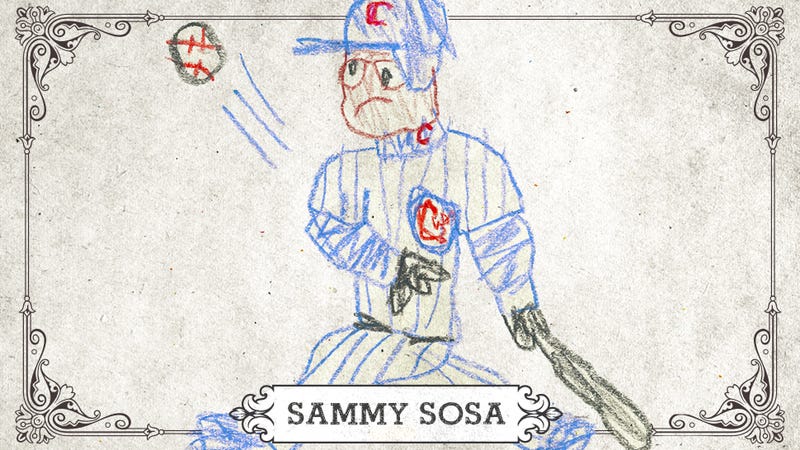 Having purchased a Hall of Fame ballot, which we'll be filling out in accordance with the wishes of our readers, we're examining the merits—and relative lack of merits—of all 36 players on this year's ballot for the purposes of better informing the electorate, i.e., you. All entries in the series can be found here.
An apple is an apple and a chair is a chair; mutual consent allows us, as a species, to share a vocabulary and a frame of reference. When it comes to abstractions like value, though, particularly as they pertain to an institution as malleable as the Hall of Fame, there are no universally agreed-upon definitions. Reality turns liquid, and starts to slip.
Going by the usual measures of value, which use statistical totals as signifiers, Sammy Sosa is probably a Hall of Famer. Cut loose from those numbers, judged in his totality, he probably isn't. But since the Hall is a self-defining institution—that is, the qualifications to gain entry vary constantly according to the whims of a group of men and women tasked with determining the best and most worthy of enshrinement—there's no real way to say. The process is, inherently, debased.
Chances are, we agree that the current methods of Hall of Fame selection are benighted, unjust, and—again—debased, but my list of glaring omissions is probably different than yours. We're just as guilty of being subjective and even irrational as the voters are. That's excusable because it's inevitable: the people who are supposed to do so have given us no clearly defined standards by which to calculate worthiness. There's nothing to hang our convictions—and now, thanks to Deadspin's cunning, our actual vote—on.
Understanding and embracing the fact that better-engineered sets of rules govern mundane things like buffet etiquette than Hall elections is important to remember when you cast your vote. That applies to this Hall of Fame class especially, rife as it is with players who have been portrayed as cheats, juicers, and liars. The winning slate will consist solely of those players who can withstand the scrutiny of an unapologetically biased electorate blinded not only by the purported wrong-doing of this year's candidates, but by nostalgia and subjectivity, just like the rest of us.
One thing blinding an awful lot of people is the career milestone. Over his 18-year career, Sammy Sosa hit 609 home runs. It's a lot, and puts him eighth on the list of career home run leaders, nestled between the turgid arms of Jim Thome and the contagious, though dangerous, smile of Frank Robinson. But for those who like numbers—I certainly do—we have to get past the idea of letting the figures do all of the thinking for us. Counting stats are quantities, not qualities, and in determining how to vote, we should be more concerned with value than values. There's nothing holy about 500 or 600 home runs, just as there's nothing magical about 300 wins or 3,000 hits. Pete Rose may be the all-time hits leader with 4,256, but the story the back of his baseball card (and the one my father tells) fails to mention that Rose wrote himself into the lineup at the expense of his team's success just to achieve a personal record. Sometimes records are nothing more than a convenient means for thoughtless sorting.
Some will also be blinded, especially in Sosa's case, by the rumors that his mid-career home run explosion was attributable to performance enhancing drugs. Though unconfirmed, they won't stop some of the electorate from making harsh decisions and basing their vote on unsubstantiated whispers.