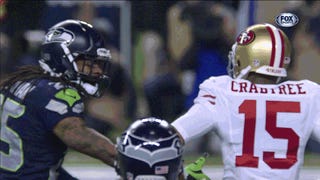 It looked like the NFC Championship Game was going to end with a 49ers game-winning drive. Down six points, Colin Kaepernick and company were moving down the field with ease. They were already in the red zone. And then, Richard Sherman happened.
With 30 seconds left one on first and 10, Kaepernick threw a fade to Michael Crabtree. Unfortunately, he was covered by Sherman, a guy who's constantly reminded people that he thinks he's the best cornerback/person. Sherman justified that attitude by flicking the pass away from Crabtree, into teammate Malcolm Smith's open arms to all but seal the game for the Seahawks in a 23-17 win.
After showing off the talent, Sherman flourished the hype, taunting Crabtree and using the universal symbol for choking. He took a 15-yard unsportsmanlike penalty for that, but it didn't matter. The game was over. Save your stale, old-fart whining about "class." It can't be called arrogance when the talk's backed up.