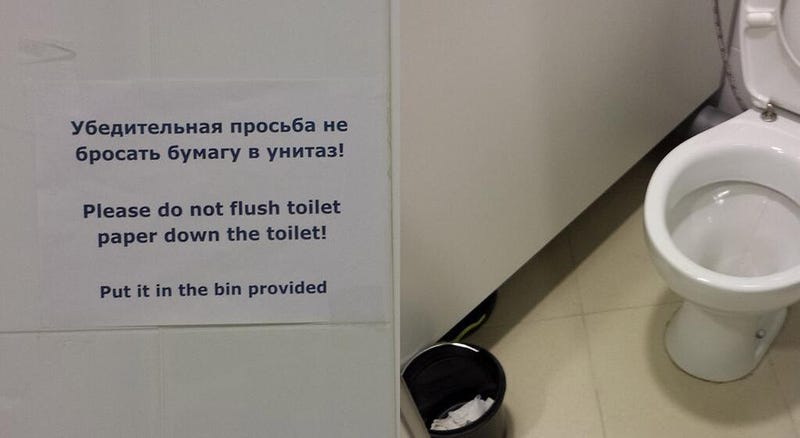 The North American media has descended on Sochi, and...how do we put this gently? Sochi's not ready.
The athlete accommodations are fine, if a bit cozy and, um, social. But the media hotels, along with much of the hastily-built city infrastructure, are decidedly lacking. Three of the nine hotels in the mountain complex simply aren't done, and the ones that are open are dirty, unfinished, broken, or infested with something or other.
Bruce Arthur is on the scene, and gives a good rundown:
Almost every room is missing something: lightbulbs, TVs, lamps, chairs, curtains, wifi, heat, hot water. Shower curtains are a valuable piece of the future black market here. (One American photographer was simply told, "You will not get a shower curtain.")

[...]

In the Ekaterininsky Kvartal hotel, the elevator is broken and the stairway is unlit, with stairs of varying and unpredictable heights.

Outside the Chistya Prudy, there is a bag of concrete in a palm tree, leaking grey down the trunk. Inside, some of the electrical outlets are just plates screwed into drywall.

Sports Illustrated's Brian Cazeneuve had to clamber through a window to get out of his hotel on Tuesday morning, since the doors were all unexpectedly locked. Chris Stevenson of the Ottawa Sun was without electricity for the first day.
But it's so much worse than that.
People have asked me what surprised me the most here in Sochi. It's this. Without question ... it's ... THIS. pic.twitter.com/1jj05FNdCP

— Greg Wyshynski (@wyshynski) February 4, 2014
Ok, so my hotel doesn't have a lobby yet.

— Mark MacKinnon (@markmackinnon) February 4, 2014
Congrats to @Dave_Schwartz only media personality who's arrived in Sochi with a hotel room that's ready, with doorknob that doesn't fall off

— Ryan Stanzel (@rstanzel) February 4, 2014
My hotel has no water. If restored, the front desk says, "do not use on your face because it contains something very dangerous." #Sochi2014

— Stacy St. Clair (@StacyStClair) February 4, 2014
Water restored, sorta. On the bright side, I now know what very dangerous face water looks like. #Sochi #unfiltered pic.twitter.com/sQWM0vYtyz

— Stacy St. Clair (@StacyStClair) February 4, 2014
Went to buy water, realised at last minute was big plastic bottle of gin. Then got accosted by 3-legged dog. #Sochi pic.twitter.com/RbP2GqnXUK

— Shaun Walker (@shaunwalker7) February 4, 2014
Gross? You don't know gross. Arthur again:
Oh, and one journalist in the Omega hotel complex had to refuse a colleague's request to stay a night in the second twin bed because … well, there's no easy way to say this, but when the first journalist arrived, someone had left an indeterminate amount of semen on the sheets of the second bed, and those sheets had been taken away for cleaning, and hadn't come back.
German photographer Joerg Reuter has been in Sochi for two weeks, and spent much of that time trying to find a hotel room fit for humans.
"The outdoor area and floors/staircase/elevator inside were still under construction and completely dirty," Reuter wrote, adding that the room he was shown "had no light in the main room, the water out of the tap was yellow/brown, the air conditioning, TV, kitchenware were all not working ... Beside this the room was totally dirty and everywhere covered with dust."

The next room was worse.

"In some rooms you actually saw that there are still the construction workers sleeping and living," he wrote.

Seeing the dog walk out of the third room he was shown was a step too far.

"When I came out of the elevator, there was the dog. I said, 'Right, that's it,'" Reuter told The Associated Press.

So, those dogs. Sochi's privately contracted dog murder squads are apparently falling behind on their work. Every journalist says the area is rife with strays, just generally puttering around and minding their own business. Some are even quite friendly! But don't get too attached to them, as the Detroit Free Press's Jo-Ann Barnas did.
Have looked for 'Sausage,' one of the friendly little media hotel strays #Sochi2014 but can't find. Here's his friend pic.twitter.com/GgH69BD5rZ

— Jo-Ann Barnas (@JoAnnBarnas) February 3, 2014
Fyi for Ekater/kvartol media: This friendly stray waiting in que to head to MPC is NOT 'Sausage,' our missing mascot. pic.twitter.com/6hgwDgq81n

— Jo-Ann Barnas (@JoAnnBarnas) February 4, 2014
@MTBill Don't know where "Sausage' is; saw several on walk on promenade.

— Jo-Ann Barnas (@JoAnnBarnas) February 4, 2014
Sign near front door where media breakfast served in my coastal cluster hotel: Sure looks like t/ dog we call Sausage pic.twitter.com/2xPRbeOPOB

— Jo-Ann Barnas (@JoAnnBarnas) February 4, 2014
Yeah, maybe skip the media breakfast for a couple days.
So the rooms are a mess. Exiting hotels can be hazardous. Even when you've made it outside, you're still not safe:
Watch your step @Sochi2014 — I've noticed on walkway and on sidewalks that not all man holes are always covered. pic.twitter.com/a5Nv4wu5iA

— Jo-Ann Barnas (@JoAnnBarnas) February 1, 2014
At a reported $51 billion, these are by far the most expensive Olympics in history. But transforming a sleepy beach town with little infrastructure and inappropriate geography into the world's hub requires a massive undertaking, one that Russia hasn't quite completed.