In the overnight hours after Marcus Smart shoved a fan in Lubbock at the end of Saturday's Oklahoma State-Texas Tech game, speculation ran wild about what might have provoked the Cowboys superstar guard to react in such a way. By morning, the narrative had been forged: Red Raiders superfan Jeff Orr told Smart to "go back to Africa."
That's thanks to BlackSportsOnline, LostLettermen, and ESPN SportsCenter anchor Stuart Scott, all of whom have pushed the story. It starts with WDAF in Kansas City, which tweeted out the following at 1:30 a.m. EST Sunday morning:
We haven't done the total CSI type analysis, but it appears this is what TTech superfan Jeff Orr says to Marcus Smart: "go back to ———".

— FOX 4 Sports (@fox4sports) February 9, 2014
Kansas City is 700 miles from Lubbock, and WDAF's own newscast only reported the secondhand claim that Smart accused Orr of calling him a "nigger." The WDAF tweet is simply amateur lipreading off ESPN's video. Here's where the game of Internet Telephone begins, and we've highlighted the tweets we believe warped one local sports guy's opinion into "fact":
@Mizzou2SEC please be careful Mizzou Nation. We never said: "A——-"

— FOX 4 Sports (@fox4sports) February 9, 2014
@Logand55 Audio is being released soon. Oklahoma news has audio of Orr saying "go back to Africa"

— Landon Barimo (@landonb94) February 9, 2014
@D_Russ3 Exactly. A news station in Oklahoma said the fan told him "Go back to Africa". He deserves a push and has caused problems before

— Landon Barimo (@landonb94) February 9, 2014
(No news station in Oklahoma had reported or is reporting any such thing.)
Okla news stations reporting fan told Smart "Go back to Africa"..IF TRUE..Smart's "shove" still wrong...BUT...19yrold kid...I UNDERSTAND!!

— Stuart Scott (@StuartScott) February 9, 2014
Marcus Smart Told To 'Go Back To Africa' By Jeff Orr At Ok State, Texas Tech Game http://t.co/yStQtBBK4T #news

— Zennie Abraham (@zennie62) February 9, 2014
Drunk white fan tells a 19 year old black athlete "Go back to Africa, nigger", gets shoved. Athlete punished. This is how America works.

— Collin Robinson (@C_Robinson32) February 9, 2014
@Touch_Money88 told him go back to Africa stupid nigger

— Young Guapo (@_AlmightyTe) February 9, 2014
@Hoya2aPacer ABC news said he called him the n-word and told him to "go back to Africa". And the guy saying it is the "#1 tech fan"

— Brandon Williams (@the_bw2) February 9, 2014
@adamosgp according to a local Oklahoma news station, something like "go back to africa" with the n-word thrown in a few times

— Jake Smith (@gatorjake2323) February 9, 2014
We're not discounting the possibility Orr said any of these things. But look at how the allegation developed: every step along the way, what Orr is alleged to have said changes and grows. So, too, did the alleged source—from a "local Oklahoma station" to multiple Oklahoma news outlets to ABC news. There's one thing we're relatively confident in reporting: that Smart turned to Orr and shouted, "Watch your mouth!" But everything before that is in question, even if the Internet has decided otherwise.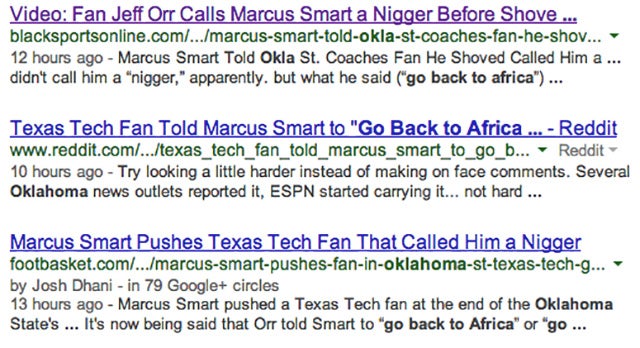 To contact the author of this post, write to tim@deadspin.com or find him on Twitter @bubbaprog.