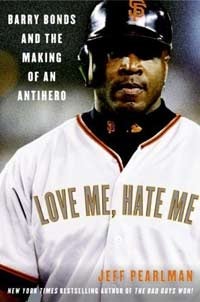 If he goes on one of his hot streaks, Barry Bonds could end up tying or breaking Babe Ruth's home run total by the end of this weekend in Philadelphia. We have extra interest in this now after reading Love Me, Hate Me, an excellent biography of Bonds written by Jeff Pearlman, author of The Bad Guys Won! and the infamous John Rocker story in Sports Illustrated.
The book follows Bonds' life from childhood to the present day, and the portrait that emerges of Bonds is not one of a monstrous, steroid-addled freak but, in fact, of a deeply insecure overgrown child who had a terrible father and an upbringing that completely lacked any teaching on how to interact with other humans. As Bonds is chased by the feds, tracks down Ruth and limps around the basepaths, we spoke with Pearlman about how Bonds is probably handling all of this.
Full interview is after the jump:
———————————————————————————————————————

In the beginning of the book, you actually talk with Bonds and tell him you're writing a book about him, even though you'd already talked to hundreds of people. Was this really the first time you'd been in a locker room with him since you started working on it? How many experiences with him had you had before you started writing it? What inspired you to do it in the first place?
It actually was my first face-to-face encounter with Barry since I started working on "Love Me, Hate Me." I had seen him once before in the Giants clubhouse earlier in the 2005 season, but at that point I didn't feel comfortable approaching him. I wanted to have as much research under my belt as possible, so I could present myself as informed and hard-working when it came to all subjects Bonds. In other words, I didn't want to just go up to him and say, "Uh, I'm starting a book on you. Can we talk?" I felt like I had to have some substance behind the words.
Even though I assumed he wouldn't remember me, I'd actually interviewed Barry four or five times during my years at Sports Illustrated. During the 2000 season I even did a lengthy profile on him—the first time he talked to the magazine in seven years. We sat down for about an hour, and he was spectacular. Funny, charming, charismatic. In fact, when I handed in the piece my editor was very angry. His exact words, and I quote, were, "If you wanted to give Barry Bonds a blowjob, we could have flown him to New York." So I adjusted the story, which still was very positive.
That said, my inspiration for "Love Me, Hate Me" had nothing to do with past interactions. I was coming off of promoting my first book, "The Bad Guys Won!" and I really wanted to follow up with a definitive sports biography. I made a mental list of sports icons, and every one — from Namath to Owens to Mantle to Gretzky — had been written about at least once in a very good, life-spanning biography. Then I thought about Bonds — an icon, a record holder, a legend, controversial, loved, hated. And most important, he's incredibly mysterious. My book isn't "Game of Shadows." It's a detailed, in-depth,ultra-researched look into the life of Bonds, from his dad's boyhood to Barry's youth to Serra High School to ASU to the minors and Pittsburgh and San Fran. I wanted to know what makes this guy tick; why he is who he is. I think I've discovered many of the answers.
Have you heard anything from Bonds or his people since the book came out?
I've heard from some of Barry's loyal childhood friends, and they're not happy. There are people out there who only want one side of Barry presented — the smiling, charming man who loves little kids and ice cream and long walks on the beach. And, factually, there is that side to him. But it's often obscured by the other side of the man.
How much did you want to beat Jay Canizaro's ass after he pulled the switcharoo on you on live TV? We'd have really wanted to beat his ass.
Severely. I interviewed 524 people for this book, and he's the only one who did that. It infuriated me to no end, because you're talking about a writer's reputation. After I calmed down I called Jay and said, "Here's a way to settle this. You and I appear on the next day's Cold Pizza (the show where he denied all). I'll bring the audiotape of our interview and a printed transcript, and you show me exactly where and how you were misquoted." He apologized, and I actually felt sort of bad for him. Because it wasn't done out of malice, but fear. Jay was afraid that Bonds or someone could sue him, or he'd be blackballed from baseball, or ... whatever. But when you go 12 years without being accused of misquoting someone, and then someone accuses you of that, you become very, very defensive. Especially in a case like this.
Do you think there will be any recourse from other players to Cory Lidle's comments about Bonds? Will he be considered as breaking some sort of code?
I would say we've actually reached a point where Bonds bashing is a little more acceptable than, say, Pudge Rodriguez bashing or Roger Clemens bashing. The one thing Bonds doesn't have going for him is tons of friends. So it's not like hundreds of ballplayers are furious at Lidle for ratting at a buddy.
At what point did you first hear about Game of Shadows? The book is quoted in yours, though it's obviously a dramatically different book. What do you think of the book? Do you feel it benefits yours to have that out, hurts it, whatever? Was there more stuff about steroids in yours because of that?
I first learned of "Game of Shadows" about halfway through my own research. I wasn't especially worried, mainly because I was so entrenched in my own stuff. I will say this — I have never been bothered by the book's existence or success. It's an excellent read, an excellent piece of research, and Mark and Lance deserve everything they're getting. I truly mean that.
The only thing that bothers me is how my book has been labeled by many as "the other Bonds book," or when radio boobs say, "Another steroid book is out ..." I worked my ass off on this project. I interviewed 524 people, dug through thousands upon thousands of clips. I bled a kidney here. So to be dismissed by some as "the other" book or as "a steroids book" stings. This is not a steroids book, but a biography of a fascinating, conflicted, gifted man. Barry Bonds is not just a ballplayer who used steroids. He's the son and grandson of alcoholics; a kid who was raised in the bubble of the baseball clubhouse and is unable to relate with most human beings; a person who, from a young age, has struggled with race and class; a man who desperately wants approval but doesn't know how to go about it. There are stories upon stories upon stories in my book, 95% of which have nothing to do with steroids and everything to do with the development and maturation of Barry Bonds. So do I get prickly about comparisons? Yup. I do.
ESPN totally acted like your Griffey scoop was theirs in an attempt to make it look like they didn't get their asses handed to them by Sports Illustrated. Agree with that statement? Do you mind?