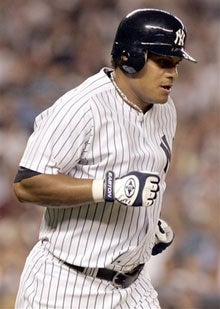 Bobby Abreu made his debut for the New York Yankees last night, going 0-for-3 with a walk as the Yankees took over first place for the first time in almost two months. It's a love fest in the Bronx so far, which is to say, it has been about 24 hours.
Much discussion of Abreu of late has revolved around his lack of power since his monstrous performance in the Home Run Derby last year. What is rarely brought up, or remembered even, from that time is what was going on with Abreu's personal life back when he was hitting homers so regularly.
Excuse us while we we quote from our own post.