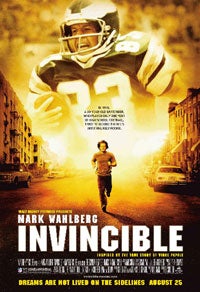 AJ Daulerio's Cultural Oddsmaker runs every Friday. Let him know what you think of him.
Everybody loves an underdog story, and apparently, Hollywood loves a South Philly underdog story more than once. And I've always been a mess when it comes to movies like Invincible: I break out in hives everytime I watch Hoosiers. The Rookie made me want to hug somebody. And Rudy ... well, shit — full nervous breakdown.
Even as a Philadelphia Eagles fan, I'll admit to never having heard of Vince Papale until the movie was being made. So, this'll be two-times the fun for me. And for others too — next week the movie should prove to be a box office draw for the lucrative sappy dad demo and racially insensitive loudmouthed housewives everywhere.