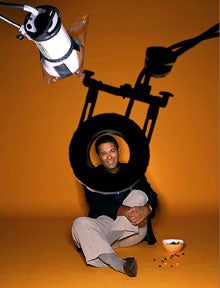 AJ Daulerio's Cultural Oddsmaker runs every Friday. Email to let him know what you think of him.
With the latest "controversy" over his comments regarding Gene Upshaw, Bryant Gumbel has once again garnered some unwanted attention. However, as any watcher of "Real Sports" knows, his sanctimonious wrap-up monologues have always bordered on being patently offensive to somebody.

After the whole "I'm not watching these stupid white people ski" (I'm paraphrasing, of course) just before this year's Winter Olympics and the latest black-man-on-a-leash tirade, it's pretty obvious that Gumbel's button-pushing is getting more and more edgy — yet, still eloquent.

So, I'll channel my inner banana-in-a-tailpipe voice for a conversation with my Uncle Tom and place odds on the next Gumbel wrap-up topic that'll piss people off. Marginalize with me, after this jump.

*Author's Note: Gumbel impersonation needed for full appreciation of this piece.