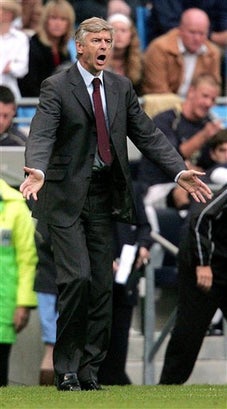 David Hirshey writes about the English Premier League for Deadspin.
Why can't the Premiership be more like MLS? I know what you're thinking: All those vodkas with Vicodin chasers that I frantically slammed down to cauterize the pain of Arsenal's latest limp-dick performance has made me delusional. What's next? Suggesting that Scarlett Johansson get a breast reduction?
At any rate, seized by an insomniac bout of soccer delirium, I happened to stumble upon three MLS games on Saturday — three more games, I might add, than I watched ALL last season — and thought perhaps that I was having some sort of late 70's Cosmos flashback. The games were ... how shall I put this ... mildly diverting but, most important, they featured goals, goals and more goals. The Red Bulls put six in the net in the second half alone against a 10-man Real Salt Lake team, most notably a reverse spin snap shot from hat-trick hero Edson Buddle that was more highlight-reel worthy than anything I witnessed in six hours of weekend Prem watching.
And that's saying something because two of the guys (Chelsea's Drogba and Everton's Johnson) on the Fantasy Football League team — yes, that's how sick I am — I co-manage with New Republic editor Frank Foer scored smokin' goals for Missing Foerskins United. Energized by the Red Bulls six-pack, I then caught Chivas USA's 3-2 win over the Houston Dynamo, a match that featured an electrifying four one-touch pass buildup culminating in a cracker of a goal by Ante Rasov. Then, just before passing out on my newly embroidered Dennis Bergkamp pillow, I watched Landon Donovan, slowly shucking off his heinous World Cup, do his best Ronaldo vs. Ghana imitation by juking D.C. United goalie Troy Perkins to the ground and sliding the ball into the empty net to seal the Galaxy's 5-2 win.
That's 18 goals in three games, compared to the six goals scored in the four Prem matches (Everton-Spurs; Man City-Arsenal; Wigan-Reading; Chelsea-Blackburn). This is not to suggest that the level of skill, speed or physical commitment in the MLS will ever be confused with the pulse-quickening blood and thunder of the Premiership; it's just that, call me crazy, I derive more enjoyment from seeing a well-taken goal than a well-executed cheap shot, which is a nice way of saying that Fox, Sky TV and ESPN — oh, how gleeful Mike and Mike must be to have a fresh new soccer atrocity to replace the Zidane head-butt — can now stop showing Ben Thatcher's EMD (Elbow of Mass Destruction) from 17 different angles as if it was filmed at the Texas Book Depository. I think we all get the point: Thatcher, the ManCity defender and former Welsh international, is a thug whose hit parade of cheap shots would make Marco Matterazzi envious. Yes, and we'll take your word for it, that he's a lovely lad off the pitch and never intended to hurt Portsmouth's Pablo Mendes when he sprinted 20 yards with his elbow raised like a baby seal club to smash into the Spaniard's cranium as Mendes was ... trying to save the ball from going OVER the touchline. Imagine what Thatcher might have done to him if he had, God forbid, been in a scoring position. "What do you have to do to get a red, kill someone?" asked Portsmouth manager Harry Redknapp rhetorically after the referee Dermot Gallagher failed to send Thatcher off for his assault.