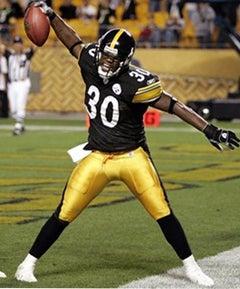 (We're still taking the day off, but we thought we'd toss this out there for you, so you had something today. Plus, it's really good. See you tomorrow.)
We are officially less than a month before the start of the NFL season, so it's probably time to start previewing the monster. The key to the NFL's success — other than fantasy football and gambling, of course — is the rabid nature of its fans. That is to say: You don't see a lot of people painting their faces for their favorite golfer.
We asked a gaggle of writers, from the Web, from print, from books, even a TV guy or two, to tell us, in as many or as little words as they need, why My Team Is Better Than Your Team. This is not meant to be factual, or dispassionate, or even logical: We just asked them to riff on why they love their team so much, or what their team means to them, or whatever. We will be running two a day until the beginning of the NFL season.
Right now: the Pittsburgh Steelers. Your author is Don Spagnolo.
Don Spagnolo is a freelance writer and editor of Mondesi's House, a Pittsburgh sports comedy blog. He is also the owner of Steelcityauctions.com, a Pittsburgh-based sports memorabilia firm. His words (and pictures) are after the jump.
————————————————————————
If you've ever wondered how important the Steelers are to Pittsburgh, let me take you back to Monday, June 12, 2006. Ben Roethlisberger, the Steelers' 24-year-old Super Bowl Champion quarterback and resident King of the City, was thrown from his motorcycle and onto the windshield of a 62-year-old woman.
The media covered the event with the 'round the clock coverage reserved for international tragedies. The local news on the ABC, CBS, and NBC affiliates each devoted the first 20 minutes of their 11 p.m. newscasts to the accident, as if nothing else happened in the world that day. And then they kicked it to sports, where they covered it again. Fans drove from hours away just to sit outside the hospital, where other fans were holding tailgate parties and vigils simlutaneously. There was a parade of media members descending on the city to cover the tragedy. The event was an absolute circus, by anyone's account. Thankfully, the big lug survived. But Pittsburghers acted as if one of their own was lying on death's doorstep.
Pittsburgh has always been a city that is very proud. When a national media member dares rank the Steelers too low in an absolutely meaningless Power Ranking poll, Pittsburghers take it as a personal insult. They are proud of their football tradition, from the amateur ranks to the professional. This is a region that has produced Bill Cowher, Curtis Martin, Dan Marino, Jim Kelly, Joe Montana, Joe Namath, Johnny Unitas, Lavar Arrington, Marc Bulger, Marty Schottenheimer, Marvin Lewis, Mike Ditka, Tony Dorsett and Ty Law, just to name a few. Not to sound like a clich , but football is life in Pittsburgh.
With that as a backdrop, you may be able to imagine how honored I was when I opened my email on Monday morning and found an invitation to write the Steeler Preview for Deadspin. Of all the great Steeler and Pittsburgh sites on the web, I'm flattered to be the writer asked to represent my city.
If you've ever visited my site, Mondesi's House, you know that I'm big into lists. So today I give you 50 Reasons Why I Love the Steelers, in no particular order. I realize there are plenty of Steeler haters out there, so this could easily be construed as a list of reasons why you should hate the Steelers. But look around at our city. We have a baseball team that hasn't had a winning season since 1992. We have a hockey team that threatens to leave town so often, you can set your watch to it. We have a college football rivalry that's been on hold since 2000. We have a city government that is $839 million in debt. So bear with us if we feel the need to celebrate our football team.
50. Only two head coaches since 1969. The Emperor Chas Noll was in charge until 1991. He left behind a legacy of four Super Bowls, nine Hall of Famers, and never buying a house in North Carolina while he was under contract.

The chin in a non-gametime moment
49. A strong-armed, swashbuckling quarterback from Louisiana. Played the game with a gambler's mentality. Once had a season of 24 interceptions and six touchdowns. No, I'm not talking about Brett Favre, I'm talking about one Terry Paxton Bradshaw.
48. We may not always have a great team, but we always have some fantastic names. Alvoid Mays, Bam Morris, Boo Bell, Bubby Brister, Chris Fuamatu-Ma'afala, Kimo von Oelhoffen, Louis Lipps, Shayne Edge, Tunch Ilkin and Weegie Thompson. The Steelers have never let me down in this category.
47. The Jerome Bettis Trade. The St. Louis Rams traded Jerome Bettis and their third round selection (Steven Conley) in 1996 to the Pittsburgh Steelers for their 2nd round selection (Ernie Conwell) in 1996 and 4th round selection (later traded to the Miami Dolphins) in 1997. The Rams were right, Bettis was a bad seed. Good thing they drafted Lawrence Phillips that year.
46. Rocky Bleier. An American war hero who was injured in Vietnam after being drafted by the Steelers. Sort of like Santonio Holmes, only the total opposite.
45. Nate Washington. He attended Tiffin University, which is NCAA Division VIII for those of you wondering, and he is quickly ascending up the Steelers' depth chart at WR. In the mold of Randy Moss and Terrell Owens, he is proving that you don't have to play at USC or Miami to be an NFL receiver. He's every bit an NFL player as they are, as Bill Cowher will point out. But why does Cowher insist on calling him "the player"?
44. Greg Lloyd. He was named to five Pro Bowls and three All Pro teams in 10 seasons with the Black and Gold. But in my mind, he'll forever be remembered for the t-shirt he would frequently wear, that read, "Real Men are Black."
43. The Steel Curtain. Mean Joe Greene. L.C. Greenwood. Dwight White. And who could forget Ernie Holmes? How does this guy not get more love? He was arrested for shooting at a police helicopter, he appeared in Wrestlemania 2's Battle Royale, and he's absolutely ginormous.

Why is this man not on Celebrity Fit Club?
42. The Roethlisburger. A $7 concoction of beef, sausage, scrambled eggs and American cheese named in honor of our hero. It's about time these Pittsburghers put some meat on their bones.

The best part? Totally fat free.
41. The Kent Graham Experience. I love how Steeler fans have totally erased this from memory, as if it never happened. Wasn't that the basis for that movie, " Eternal Sunshine of the Spotless Mind"?
40. Hines Ward. The former Georgia Bulldog quarterback and 1998 draft pick earned his first Super Bowl ring in 2006. Well, there's at least one former SEC quarterback picked in 1998 who's gotten the Super Bowl monkey off his back.

Someday, big guy. Till then, just cut that meat.
39. The Bus. No one has ever taken advantage of his popularity as a Steeler more than Jerome. We were treated to years of Bettis Salsa, Bettis Cereal, Bettis Mustard, even Bettis Helmet Cakes. Now we get a weekly dose of Bettis with a side of Cris Collinsworth and Peter King. Makes me long for the salsa days.

Eat my cereal, so you can have a build just like mine!
38. Troy Polamalu. The hair. The religion. The song. The bulldozing of former USC roommate Carson Palmer en route to the end zone. Everyone loves Polamalu. Even NFL refs, who give the Steelers all the calls (right Seattle?). Like Troy's interception of Peyton Manning in the AFC Playoffs. What, that was overturned? He didn't have control?

The real reason he never gets a haircut? He's cheap.
37. The Immaculate Reception. Was it a catch? Wasn't it a catch? Between this and the Tuck Rule, I think there's some sort of unwritten NFL by-law that requires an incredibly controversial play in order to truly be considered a dynasty.

Just imagine the outcry if we would have been playing Seattle that day.
36. Steeler Nation. No professional team can boast fans that travel quite like the Steelers. They could play in Iraq and there would be 20,000 towel-waving lunatics drinking Iron City with tailgates set up on camels.

Steeler Nation, Iraq Chapter
35. Myron Cope. Creator of the Terrible Towel and Steeler broadcaster for 35 years. His catchphrases were adored by Steeler fans who turned down the TV set so they could listen to the radio broadcast. Anyone who's ever heard Joe Theismann on TV would agree that this is a brilliant idea.
34. Three Centers since 1974. With the exception of a few games, the Steelers have started three centers since the mid-70s: Mike Webster (1974-88), Dermontti Dawson (1988-2000) and Jeff Hartings (2001-present). For perspective, I think Cleveland has gone through as many this year, and we're not yet out of the preseason.
33. The Kordell Stewart Era. He burst onto the scene in 1995, changing the way people look at quarterbacks. He was the forerunner to today's Michael Vicks and Vince Youngs, who, much like Kordell, will end their careers without Super Bowl rings. Note to Messrs. Vick and Young: a losing season will make you publicly defend your sexuality. I love Pittsburgh.

Kordell, back when we didn't hate him
32. The 2006 Playoff Run. The Steelers sat in week 12 with a 7-5 record, needing four wins and help to make the playoffs. Not only did they win all four games, they rattled off road wins at Cincinnati, Indianapolis and Denver, and then toppled Seattle in Super Bowl XL. Of course, none of these wins are recognized from the losing teams, who prefer to credit poor officiating, unfortunate injuries and them "beating themselves."
31. Neil O'Donnell. A lot of Steeler fans hate O'Donnell and blame the Super Bowl XXX loss solely on him. I fail to believe that a guy who was so efficient in limiting turnovers would purposely tank, as conspirators contend. He never had more than 9 INTs in seven seasons as a starter. Steeler fans should have taken the high road and wished him luck with Rich Kotite and the Jets.

Super Bowl XXX MVP Neil O'Donnell
30. Training Camp at St. Vincent. The Steelers continue the tradition of holding training camp at a college run by Benedictine Monks that is surrounded by cornfields. Yet one player still managed to get arrested during camp this year.
29. The Ben Roethlisberger Drink Like a Champion Photos. A milestone day for Deadspin, and a budding controversy brushed under the rug by Pittsburgh media. Could he be destined for the Deadspin HOF?