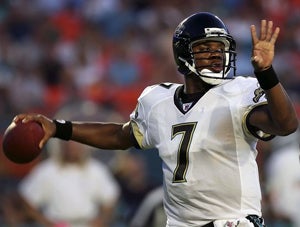 We are officially one day before the start of the NFL season, so it's probably time to start previewing the monster. The key to the NFL's success — other than fantasy football and gambling, of course — is the rabid nature of its fans. That is to say: You don't see a lot of people painting their faces for their favorite golfer.
We asked a gaggle of writers, from the Web, from print, from books, even a TV guy or two, to tell us, in as many or as little words as they need, why My Team Is Better Than Your Team. This is not meant to be factual, or dispassionate, or even logical: We just asked them to riff on why they love their team so much, or what their team means to them, or whatever. We will be running two a day until the beginning of the NFL season.
Right now: the Jacksonville Jaguars. Your author is Dan Shanoff.
Dan Shanoff was the creator (and writer) of the Daily Quickie on ESPN.com. He now blogs daily at danshanoff.blogspot.com. He also hosts the monthly Varsity Letters Reading Series in New York City (tonight!). His words are after the jump.
—————————————————————————————-
I'm guessing that I will set an unbreakable record among Deadspin readers (and certainly Deadspin NFL preview writers) for "history of support."
Two weeks.
I didn't even know I liked the Jags until Will asked me if I'd like to do a preview, because the Jags were an unclaimed team.
And so here I am: Hooray, Jags.
The truth is: I have been living without a favorite NFL team since I left my hometown D.C. for college in Chicago, where I realized that being a displaced Bears fan sucked when you finally lived locally among them. I assume this works similarly for all teams.
So I plan to follow "my Jags" as avidly as you follow your team after decades of support. That's the dirty little secret of fandom: The difference between SuperFan and SortaFan is nominal; the bar to hurdle is whether you care about a team AT ALL. (Die-hard fans can rant now.)
I'm not saying you'll see me in a pink Leftwich alternate jersey with the rest of the "Jag Hags." (Amazingly, as yet unclaimed as a fan-base nickname.)
But I will tell you a couple of reasons the Jaguars have been fun to follow. For, um, two weeks:
(1) Instant pet peeve: Fuck-tards who call them the "Jag-wires" or the British-borrowed "Jag-you-ares." I can't believe that professional sports commentators (or football fans, for that matter) can mispronounce the name of a simple zoo animal. It's "Jag-whar." Say it: Jag-whar.
(2) Byron Leftwich obliterates the classic racial stereotype about black quarterbacks, which makes him arguably the most fascinating QB in the league. He is the anti-Vick. No QB in the NFL is LESS athletic; Leftwich makes Drew Bledsoe look nimble. He is a model for every mattress-topped "Byron Nebbish" who ever wanted to be a quarterback but stopped when distracted by a couch-side bag of Cheez Doodles.