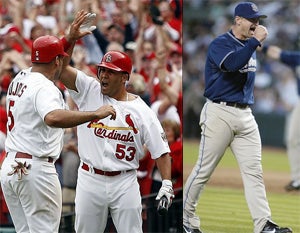 You know, it's absolutely perverse that we are expected to sit here and live-blog a Cardinals playoff game. How, exactly, does one spell a primal scream of pain? Last year, during the NLCS, we realized that we were literally running back and forth, stomping our feet, howling at the television screen, cursing, biting, generally acting like an absolute lunatic. And we stopped to ask ourselves? Is this supposed to be fun? This is leisure?
You're goddamned right it is. It might not be healthy, but it's the playoffs, and it's the Cardinals and Padres, and we're going to see the computer through all the blood.
It's the NLDS, and we're absolutely not ready.