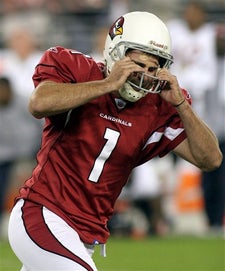 All right, we're gonna talk about this one more time, and then if you bring it up again, we're totally not giving you a cookie.
As we sift through the rubble of last night's physical manifestation of life as a fan of The Buzzsaw That Is The Arizona Cardinals, we would like to point out three things.
1. The game set all kinds of records, most of which are documented here. Our favorite is the Buzzsaw becoming the first team to lose two games in a row after leading by 14 points after the first quarter.
2. Dennis Green is obviously meat after this debacle, not that he wasn't in serious trouble anyway. After his postgame tirade, we'd like to suggest Joe Mikulik, who can at least draw out his screaming longer.