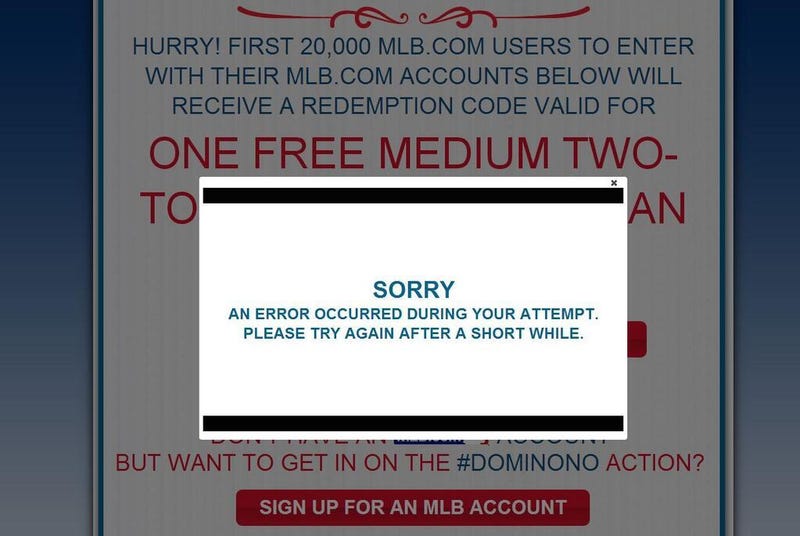 Josh Beckett's no-hitter was a story of redemption—the redemption, by you, of a coupon code in exchange for a medium two-topping pizza from Dominos. Americans love free pizza, but there's a necessary corollary: they hate not having free pizza.
MLB.com was unprepared for the crush at 3 p.m. EDT today, when registered users were first allowed to try and claim their coupon code. The site was slow, and down, and timed out, and did whatever it could to keep you from your hot, savory pizza (carryout only). There were only 20,000 codes available—far too few to sate the gaping maws of baseball fans. By the time most people got through, it was too late: All the codes had been claimed.
Here then, is some Americana. A snapshot of frustration—often winking, occasionally genuinely and very angry—on the part of an internet denied free stuff.
How AM I SUPPOSED TO FEED MY FAMILY. I STAYED HOME FROM WORK TO CLAIM THIS PIZZA. @mlb is taking food from my family.

— Becca (@BeccaMitchhh) May 27, 2014
God have mercy on my soul, I just want a free pizza from @dominos and the MLB website is not working. There is no justice in this world.

— Nate Rios (@nathantrios) May 27, 2014
— kristy (@tybresh) May 27, 2014
Ugggghhh I wanted that free dominos pizza from http://t.co/82uQkR5j3c..... :/

— Chris DiMisa (@coolwhip34) May 27, 2014
UGH THIS STUPID @MLB website is preventing drank from getting a free pizza. #dominono

— purple drank (@purpledrank0) May 27, 2014
@drayna14 @MLB lost a fan and @dominos lost a customer today. This is a pizza disgrace

— Bonesaw (@BoomMcSplode) May 27, 2014
just got no-no'ed by @dominos. feel like chase utley watching a medium two topping pizza down the middle for the final out. #dominono @MLB

— katie burroughs (@katieyuko) May 27, 2014
I call shenanigans on DomiNoNo!! The site crashed and now I can't get my free pizza @MLB

— Tommy Meyers (@TommyM44) May 27, 2014
THE MLB SITE KEEPS CRASHING AND I CAN'T GET MY FREE PIZZA. THANKS OBAMA.

— myjah (@KirbysLeftEye) May 27, 2014
Hi @Dominos_UK do I get a free pizza thanks to Josh Beckett's no hitter? #ANoNoIsANoNo #MLB #NoHitter #Dodgers

— Michael Bates (@toastymcb) May 27, 2014
F*** you Dominos! You can't promise MLB fans free pizza and not expect server overload, be on the ball like @PapaJohns damnit! #nodominono

— Skyler Hopkins (@S_HOPkins17) May 27, 2014
I feel like I deserve free pizza at this point @dominos @MLB #DomiNoNo

— sarah segal (@sarah_segal) May 27, 2014
god damnit http://t.co/NtgBOZf9Xh i want my free pizza

— lance (@lovelessLP) May 27, 2014
I should've ordered a pizza while I wait on this bullshit @MLB @dominos

— Nick Zele (@NickZele) May 27, 2014
@MLB y'all white folks better get it together and give me my free pizza. 😒

— Chad Manziel (@BasedMarcos) May 27, 2014
@MLB @dominos 283 No-Hitters in MLB history. 0 successful #DomiNoNO campaigns. Never underestimate how many people want free pizza.

— Isaac Graves (@isaacgraves) May 27, 2014
Hey @mlb & @dominos, I'm a very entitled man who wants his free pizza. Stand up and right this egregious wrong against your fans. #DomiNoNo

— David Hill (@DavidHillOnline) May 27, 2014
Met fan on http://t.co/IeFGpunSmd says he's already eating his second free pizza lol #dominono

— joshua price (@joshbowski) May 27, 2014
Thanks for the free pizza .... NOT #MLB #DomiNoNo pic.twitter.com/c5QZ5q6SFs

— D. Currier (@dpcurrier) May 27, 2014
@MLB pretty sure we broke your site. Also, I would like a pizza please.

— BentheCPA (@BentheCPA) May 27, 2014
@MLB @dominos this is the worst fucking promo in the history of pizza promos. JFC get your shit together, MLB

— purple drank (@purpledrank0) May 27, 2014
So MLB ditched the Dominos page and now I see banner ads for cheap but not free pizza. :-(

— Adam Thomas (@BeachballDelay) May 27, 2014
ruined. my afternoon is ruined. and I was looking forward to pizza, would've also bought wings for sure @dominos @mlb pic.twitter.com/zYiPUPF1RP

— Craig Hanson (@DankGameAlert) May 27, 2014
@MLB's support page is also down, probably to stop the influx of angry pizza related emails. @dominos #DomiNoNo

— John Ewen (@HashtagEwenning) May 27, 2014
Fuck you hungry bastards who denied me of my free mlb dominos pizza

— 49erCarlos (@49erCarlos) May 27, 2014
All #DomiNoNo material has been taken off @MLB website.. So you mean that I won't be getting my pizza. Just waiting for the bigger backlash

— David Tucker (@flyingfatman87) May 27, 2014
Actually, I think this post is the backlash.
The pizza-craving masses will presumably get one more shot at their gratis pies; the promotion covers the first two no-hitters of the 2014 season. But even if today was a disaster for most, there were still 20,000 fans who cashed in. Who are these success stories?
I got my mlb free dominos pizza code with no problems at all.... Suckas

— Tyler Smith (@bostonballa) May 27, 2014
The pizza's at Tyler's house! Everybody get him!