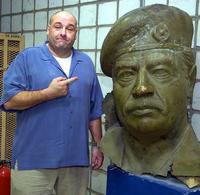 • The Sportshuman Of The Year Tournament has begun!
• JERSEY!
• That's some wide receiver ass.
• Everywhere you look, there's Ned.
• If Dan Patrick isn't talking to you, he's a dick!
• Chris, who let Christian Slater in here?
• Hey, watch the dreads!
• Drew Tate ... CLEVER!
• To steal Drew's line, "Seasoning doesn't kill people, people kill people.
• Lonnie Smith came awfully close to ending the Braves dynasty before it started.
• Hee hee, booger eater, hee hee.
• Darryl Strawberry is a helluva drug.
• Mike Ditka wine can only be found at Costco.
• Put us on the list, Jackie!