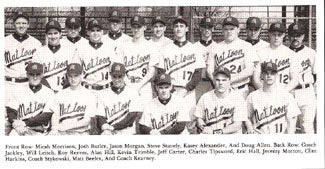 • The week just kept getting worse and worse for Pacman Jones.
• Peeing in the backseat of a cop car? Bad idea.
• Michael Irvin, ESPN hardly knew ye.
• Taking way too long to destroy a mascot.
• This is what it has come to: Rocky Balboa is on steroids.
• One bad-ass hockey fight.
• Tom Brady, procreatin'.
• Delonte West has a way with the ladies.
• Fuzzy Zoeller hates those Internet lies.
• That's all for The Chief.
• It's almost tourney time again.
• Not a good time to bring out the "soccer players can't use their hands" joke.
• AHHHHHHH!!!!!!
• And we kicked off our baseball previews.