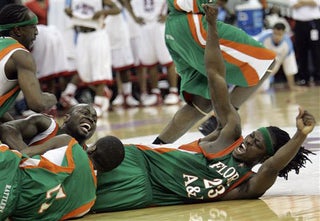 S
Well, the NCAA Tournament kinda starts tonight, with the much-anticipated Florida A&M-Niagara matchup. Winner earns the right to knock Bill Self's toupee off his head come Friday. We enjoy this game every year, but other than Dan Shanoff, we might be the only one. (Even people in Dayton don't like it.)
Our favorite part of the Play-In game is that, for official records, it is an actual game, which is why Monmouth has won more NCAA tourney games over the last two years than Kansas. And, if you believe the NCAA tournament chair, it's not for two black teams.
Anyway, enjoy. We're rooting for Florida A&M, even though the mascot wrote our preview.
NCAA Pants Party: Florida A&M Vs. Niagara [Deadspin]
I Hate The Play-In Game [Flyers Fieldhouse]
How Can You Not Love The Play-In Game? [DanShanoff.com]
By the way, just to keep you entertained in case the game gets dull ...
We can't figure out if this makes us dislike him more. We're going with "yes.")