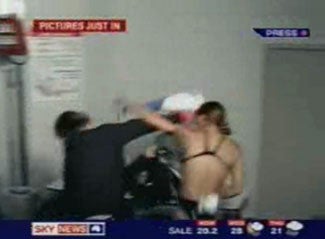 S
Sports dads creep us out, generally speaking, and yeah: Dads of world-class female athletes actually do creep us out more, whether that's fair or not. We have no children, but if we did, we think we would discourage them to play sports, or at least discouraging them to do so around us. We think, like most parents, we'd just lose all perspective. ***
But as bad as some sports fathers are, we don't remember a father and his swimmer daughter actually punching each other on camera before.
A Ukrainian coach has been stripped of his accreditation for the FINA world swimming championships after being caught on camera physically assaulting his daughter - a world championships competitor.

Victorian Police have reviewed footage captured by host broadcasters the Nine Network, which clearly showed a physical altercation between the two, with both attempting to strike each other. They have not laid any charges against the 38-year-old man.
Footage of the incident is right here. We are convinced, if this fight had continued indefinitely, that she would have kicked his ass.
Family Feud Coach Detained [Sydney Morning Herald]
*** (Note: Oh, our kid will play sports, you better believe it ... and they'll LIKE it.)