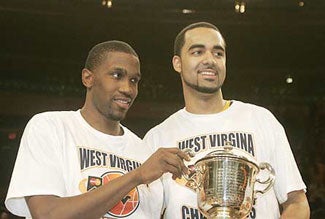 • Screw off, Selig.
• Goodbye, George Solomon.
• Peyton Manning blows us away with his ability to be vaguely amusing.
• Look what happens when you get these guys together in a room.
• Dance, Gus Johnson, dance.
• Duke ladies.
• See ya, Joe Theismann.
• You, too, can coach the Wolverines.
• David Hirshey's ethical quandary.
• Brian Giles, genius.
• We waxed sentimental about the Cardinals.
• Southern Idaho is awfully curious about its players.
• The kids, they love the Erin Andrews.
• Tony Mandarich, photographer.
• Please, support your local A-Rod.
• Joakim Noah and PhotoShop, two great tastes that taste great together.