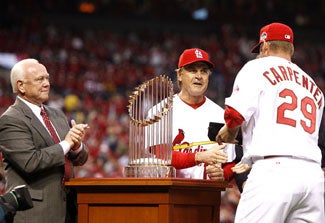 • Baseball's back!
• Bill Simmons, staying above ground.
• Nothing is funnier than when Frank Thomas pegs a child.
• Even though the team's not looking so hot right now, Cardinals fans remain the best.
• Beer bong!
• Don't fag out on us now, Packer.
• We never made it to Atlanta, but Florida didn't seem to mind.
• Cablinasians love to fart!
• We're watching you, Houston Nutt.
• Woo hoo! We get to hand over more cash to Bud Selig!
• The NBA playoffs just got less fun.
• Barbaro: The Documentary.
• Francisco Rodriguez, maybe cheating, maybe not. (Probably, though.)
• Schrutebag.