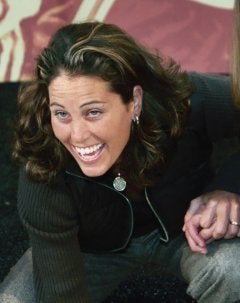 There will be exactly two MLS games on ABC this season: today's First Kick (3:30, ABC), and the championship game. So today is the one chance that MLS can choose on whom the ABC spotlight shines, and none of the following people are involved: Freddy Adu, David Beckham (okay, they have no choice on that one), Claudio Reyna, or Landon Donovan.
But we do have the Fred who is not the standout Brazilian striker, as well as Jay Nolly, Facundo Erpen, and the human highlight reel that is Greg Vanney. Shrewd, MLS. I'm pumped.
Oh, and you know who else is going to be featured? Julie Foudy. She steps in for Eric Wynalda on the broadcast, because Eric Wynalda got himself suspended by inviting Jim Rome to engage in oral sex with him. Rome declined. Had Rome just accepted the offer and pleasured the man, all of this could have been avoided. That's just selfish, Jim Rome.