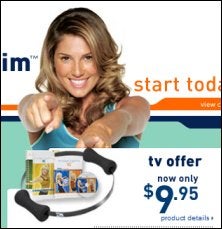 Late Wednesday night/Thursday morning, the Dallas Stars and Vancouver Canucks were in the midst of a four-overtime marathon game. Henrik Sedin took a pass from his brother Daniel, aimed to get a shot past Dallas goalie Marty Turco, and hey, could I interest you in the Winsor Pilates total body fitness system?
At 3 a.m., some Versus affiliates switched away from the game, and began airing their nightly infomercials, causing many viewers to miss Sedin's game-winner. And for the first time in the history of the Versus network, people noticed and voiced an opinion on something that aired on their network at 3 a.m.
Now, the easy thing to do here would be to poke fun at the NHL, their low ratings, and their relegation to an anonymous little cable channel that can't even handle the meager task of airing an entire game... but I'm not going to do that. Of course, I don't know what else I could possibly do, so I think this post is just going to have to end. Sorry for your troubles, hockey fans.
Versus should get major misconduct [Albany Times-Union]
Unbelievable! [Post Star]