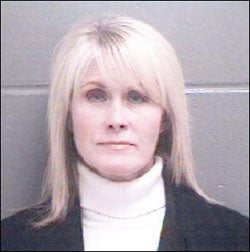 With all the rigmarole surrounding today's Cincinnati Bengals, it's vital to remember that Bengals of the past weren't necessarily princes either. Or, more to the point, their wives are still out there, causing some trouble, sleeping with 15-year-olds. (Via Pro Football Talk.)
Jeni Lee Dinkel, 51, pleaded not guilty Monday to one count each of third-degree rape and third-degree sodomy after turning herself in to authorities. The Class D felonies each carry a penalty of one to five years in prison. She is the wife of Tom Dinkel, who was a Bengals linebacker from 1978 to 1985. Dinkel's accuser attends Covington Catholic High School with Dinkel's teenage son, authorities said.

"The investigation resulted from allegations that surfaced after officers had responded to the suspect's residence back in October for a loud party call," Villa Hills Detective Joe Schutzman said in a statement released Monday. "There were allegations that the suspect was providing alcoholic beverages to minors."
We don't understand the problem here; are we really the type of society that has a problem with a 36-year age difference? Oh. Yeah. We probably are.
Woman Faces Sex Charges [Cincinnati Enquirer]