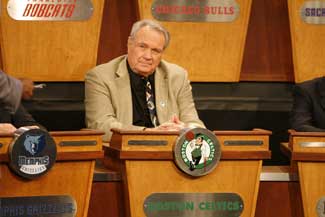 • A-Rod likes his balls.
• Carl Monday remains unstoppable.
• Clinton Portis likes it when dogs fight.
• Dan Shanoff live blogged the draft lottery, and it was not a happy night for Celtics fans.
• AJ Hawk will be more careful about wedding photographers in the future.
• NBC switches from playoff overtime to prerace Preakness analysis. Nice.
• Tyler Clippard's MySpace page.
• Ch-ch-ch-ch-Cheney!
• Port-a-john, hangin' 10.
• ESPN, out there scoopin'!
• The WNBA's revolutionary marketing plan.
• Yakking about Hashmarks.
• We briefly opined on Jason Giambi.
• Elijah Dukes does not mince words.