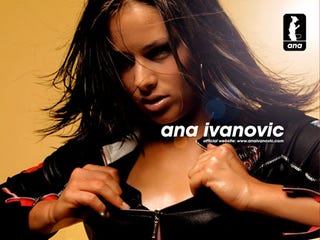 So what, we have freaking robot children now, but we can't invent a female tennis player who is both super smoking hot and amazingly talented? Well that's just a load of ... wait. Ana Ivanovic? Could it be true?
If you haven't heard about her, let me introduce you. Her name is Ana Ivanovic and she might have been taking the torch over when she waxed Maria Sharapova 6-2, 6-1 in the semis of the French Open today. If she beats Justin Henin (no longer Hardenne) on Saturday, the world will know about her like they knew about Maria when she won Wimbledon three years ago and they'll be searching YouTube for video calendars like this one.
We love Ivanovic's background: She once practiced inside a converted swimming pool and left war-torn Serbia to train in Switzerland. And just look at the way she fills out a tennis dress demolished No. 2 seed Maria Sharapova on Thursday in the French Open, beating her 6-2, 6-1 in 65 minutes to advance to her first Grand Slam final. Suddenly, that crush on Anna Kournikova seems so childish.
Ivanovic Set For Clay Showdown With Henin [USA Today]

The New "Ana" Of Tennis [CNBC]

French Open Finalist Touted As The Next Kournikova [SportsbyBrooks]