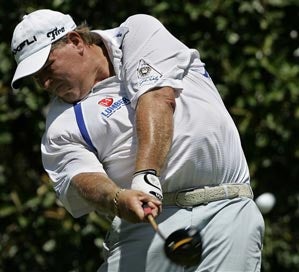 We don't have much hope for John Daly to make some crazy run to win the PGA Championship, but for one day, he continued to give hope to fat guys who smoke and drink 15 Diet Cokes a day everywhere.
The world of golf is always more entertaining with Daly around.
"There were odds with all the caddies and players this week (about) who would fall first: me or my caddie," Daly said after an outstanding round that he couldn't really explain. "I only had three heat strokes out there — honestly, I can't remember."

"Didn't play a practice round this week because it was too hot," said Daly, who also willingly joked of his, um, fitness, "I always weigh too much and probably didn't lose any because I didn't drink one bit of water. I had Diet Cokes, Diet Pepsis."
We wonder how he'll celebrate if he wins.