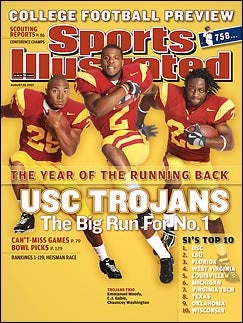 How exciting it must be, to be 20 years old, a sophomore in college and on the cover of Sports Illustrated's College Football Preview edition. (SI has the Illini going 7-5!) What a thrill. What an honor.
To celebrate, Southern California sophomore running back Emmanuel Moody did what any kid would do: He announced that he's transferring.
Moody could not be reached for comment, but he said last week that he "felt forgotten" coming into training camp because of an ankle injury that forced him to sit out the Trojans' last four games and a hamstring injury that caused him to sit out nearly all of spring practice.
So, to repeat, a guy with 459 total rushing yards makes the cover of SI with a team he bolts on a week later. We'd almost call this the second worst SI cover of the last three-plus years.
Make The Cover Of SI One Week, Bail Out The Next [Signal To Noise]