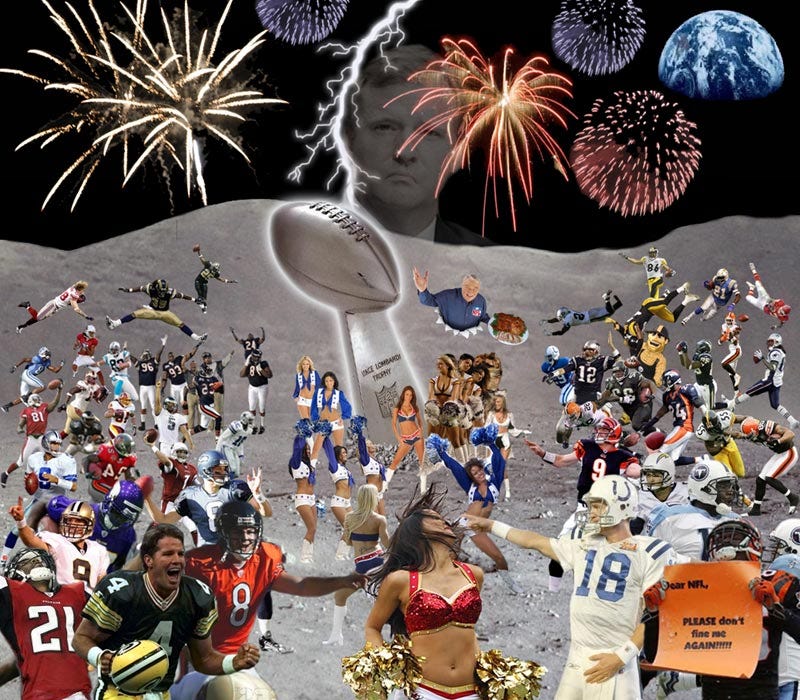 We are extremely excited to introduce Kissing Suzy Kolber's Big Daddy Drew's brand new column, which will run every Thursday during the NFL season. It'll preview the weekend's action, occasionally digress and mostly revel in the joy and anticipation we all feel at the end of every week, knowing that the NFL is just a few days away. Enjoy.
Twenty-one weeks. Twenty-one weeks of real, live NFL football. That's all we get. It sounds like a lot. It is most assuredly not. Every year I get older, and every year I grow less and less tolerant of the NFL offseason. It's an endless, barren stretch that covers the majority of three seasons on the calendar and makes me want to stick my hand down the disposal.
In my heart, I know that this is good for me, and for the NFL. If there were football on all year round, it would hurt the quality of the game, and I would probably get sick of it. In theory. Plus, the time off allows me to do things like perform work, talk to my family, write screenplays no one reads, find out the next big names in porn and plan intricate acts of arson that I would never go through with. So, in that sense, the offseason serves a bit of purpose. Plus, if there were no offseason, there would never be a good time to fire coaches, and I hate Brad Childress already.
That said, the NFL offseason blows. It blows hard. As I've taken on more responsibilities in life, I've had to jettison most of my other various sports interests. You little college whippersnappers have all the time in the world to watch MAC basketball games, to find Versus on your digital TV guide to watch hockey and/or bullriding and to sit through all 12 hours of a standard American League baseball game. Cherish this time. Because someday soon, you'll have to get a life. And getting a life is wildly overrated.
As time goes on, you soon discover those few things that you are truly passionate about, and you start to leave your casual interests behind. Thus, the NFL is now my main focus. I like other sports. Kinda. But I love the NFL. And I don't just love my team. I love them all. I learn as much as I can about them and follow every single one of them year round. I suspect many of you do the same, and I suspect that's why the NFL currently dominates the sporting landscape.
So when these 21 weeks begin, I have no choice but to celebrate every precious one of them, to treat them as important life events on par with getting married, or having children, or buying a new tract home. There are college football fans who say that their sport is the only sport where every regular season game is important. Now, I like college football a whole lot, and I watch it every week. But that is an enormous load of shit. You want to argue some of Week 17? Fine. Otherwise, as far as I'm concerned, the next 21 Sundays provide more excitement each go round than any one-upset or two-upset week of college ball (particularly when said upsets occur on channels that are only available in Poland).
Hell, for my money, they beat the first two days of the NCAA basketball tournament. At 1 p.m. ET on Sunday, balls will start flying all over the place, and I'll flip around on the dish relentlessly, trying to soak in every game at once, constantly refreshing GameCenters on nfl.com. It's insane. It's laziness at its most indulgent. Most of all, it's a celebration, bitches. And that's why I'm here.
Time to celebrate the NFL. This is Big Daddy Drew's Thursday Afternoon NFL Dick Joke Jamboroo. As you probably already know, I have five main passions in life, and here they are, in no particular order:
• My family

• Making cheap dick jokes

• Football

• Masturbation, sex, or any other means of achieving climax (i.e. Jacuzzi jet)

• Nurturing my alcoholism
This comprehensive viewing guide will feature a whole lot of Nos. 2-5 on that list. It's 21 weeks of bonerrific football goodness, and it all starts tonight. So let's dive in, shall we?
The Games
All games in the Jambaroo will be evaluated for sheer watchability on a scale of 1 to 5 Throwgasms. It'll be just like Gordon Forbes' Five Star Guide in USA Today! Remember that? Remember how only the one-star games were on in your area? Fucking regional coverage.
Five Throwgasms

Saints at Colts: After losing Nick Harper (to the Titans), Jason David (to the Saints), Cato June (to the Bucs) and Booger McFarland (to a box of Dolley Madison Zingers) in the offseason, the Colts defense faces a stern test in tonight's game, the best matchup of the week. Reggie Bush dated Kim Kardashian in the offseason, so he should now be even more highly skilled at finding seams between large mounds of flesh. Tonight also marks the regular season NBC debut of noted bridge burner Tiki Barber and his terrifying eyebrows, currently on loan from Joey Lawrence.
Bears at Chargers: I'm tired of people ragging on The Sex Cannon That Is Rex Grossman. Rex Grossman does not care for your "completed passes" and "non-fumbled snaps." That's not how things are done in the sexy business. Rex does not practice ball control. He lets those balls swing around and go slap slap slap as they please. Don't like it, Bears fans? Then fuck you in the ass with a corndog. Rex will help show you the proper technique.
Four Throwgasms

Ravens at Bengals: This will be Ron Jaworski's first official night in the MNF booth. I think Jaws will come to enjoy watching games that are played live, in real time, as they occur.
Patriots at Jets: Lots of intrigue here. It's Randy Moss' first game in a Pats' uniform. Tom Brady's son will finally get to lay eyes on his dad for the first time. Tedy Bruschi's HGH supply could finally run dry. And now that Eric Mangini has slimmed down, I think it's time to stop making fun of his luscious man-teats and direct our attention to the opposite sideline. I think we all know that people wear baggy sweatshirts to hide large deposits of fat. I'm betting Belichick is packing a rack that can suffocate you in your sleep.
Three Throwgasms

Giants at Cowboys: Giants lose big. Eli Manning finds solace at the Chelsea Piers squash courts.
Panthers at Rams: The Panthers underachieved last year, which is mighty a difficult thing to do when you play in the NFC. That's like failing wood shop, or losing to Merrill Hoge in a game of Memory.
Eagles at Packers: There isn't a more exciting Week 1 team than the Eagles. They throw the ball all over, blitz the shit outta everyone and score lots of points. Sure, they look absolutely nothing like the Philly team that will take the field in Week 17. But it sure is nice to watch for a solid month or so.
Broncos at Bills

Cardinals at 49ers
Two Throwgasms:

Pittsburgh at Cleveland: Newcomers Steely McBeam and Brady Quinn give this old rivalry a flamboyant, fabulous new dimension. It's now Hairy Bear Gay versus Freshly Waxed Gay. It's like watching Mykonos and Key West face off in a freestyle jazz hands contest.
Titans at Jaguars: The most shocking thing about Byron Leftwich's release was that he had hit the gym so hard in the offseason. And by "gym", I mean The Original Pancake House. Ever had the Dutch Baby or the giant Apple Pancake? Holy fuck, are they good. Something tells me Byron has never ordered silver dollar pancakes.
Chiefs at Texans: Larry Johnson is apparently not ready to carry a full load this week after his somewhat protracted holdout. And so, on behalf of all somewhat hard-working, fantasy-playing Americans and the hard-working day laborers that they employ, I'd like to say to LJ: STITCH UP YOUR FUCKING MILE-WIDE GASH AND GET YOUR ASS OUT ON THE FUCKING FIELD, YOU PUSSYASS FUCKFACE. "Oh, no! I had to hold out and get paid tens of millions of dollars! I can't possibly be ready for the season! This is all happening so fast! I need more time for me!" Assfuck. Die. I fucking hate you.
One Throwgasm:

Falcons at Vikings: If either Roddy White or Michael Jenkins has a breakout year with Joey Harrington at the helm, I can think of no greater indictment of Michael Vick. Well, except for one. Also, I fully expect Adrian "Purple Jesus" Peterson to rush for 476 yards, then to walk on open Gatorade coolers and turn water into delicious Purple Drank for all. This is the game I'll be watching, the first in what should be a very long and punishing year for me.
Dolphins at Redskins: GAH! You're better off watching mime porn. You're better off watching someone else play solitaire. Many people play solitaire by drawing three cards at once. And to those people I say: Are you fucking nuts? You're playing alone. Why are you being so strict with yourself? Give yourself a chance and draw one card at a time, for fuck's sake.
Lions at Raiders: Every week a seemingly awful game ends up being an entertaining affair (think of the Bengals 58-48 win over the Browns in 2004). Of this lowly one-throwgasm group, this game is the one that has that kind of potential. Then again, Peter King drafted Jon Kitna in the third round of his fantasy draft. Expect JT O'Sullivan to start by Week 6.
Bucs at Seahawks
Five Players Who Could Fuck Your Fantasy Team Over
• Jerious Norwood (RB): Goes up against a Viking run D that was statistically one of the best in league history last year (not that it made much of a difference)

• Vince Young (QB): Few weapons against a great defense. But I do love that throwing motion.

• Calvin Johnson/Roy Williams (WR): Shockingly good Raiders D could ruin Lions' season in record time

• Marion Barber III (RB): Lousy Giants pass defense could have Romo throwing all day