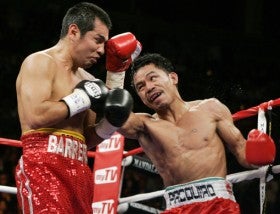 Last night I decided that if I was going to spend $60 on this fight then I might as well offer you my thoughts on the action as it goes down. What follows is a round-by-round breakdown of the fight that should have gone down two years ago. Regardless, it was still an opportunity to see the best pound-for-pound puncher in the world take on a legend.
Pre-fightBoth men make their way to the ring with something left to prove in their brilliant careers. The "title" they're fighting for is just a minor belt, but what's really on the line is reputation. Manny Pacquaiowidely considered to be the second best pound-for-pound fighter in the world behind Floyd Mayweather Jr. For the champion tonight is an opportunity to cement his status in boxing lore by defeating a future lock for the Hall of Fame for a second time.
For Marco Antonio Barrera tonight is a final chance for retribution. He's waited nearly four full years for the stars (and promoters) to align and he finally has a shot to avenge the most damaging loss of his career before it comes to a close. The all-time great has assured his fans that tonight will mark his final exit from the ring, of course if he's defeated for the sixth time in his career that decision will likely be made for him. Both fighters weighed in at 130 pounds but Pacquiao is visibly larger and HBO reports that he's rehydrated a full 14 pounds. If Barrera can extend the fight he could find himself to be the fresher fighter in the final rounds.
On Pac Man's way to the ring Jim Lampley informs us that the hugely popular fighter has just finished filming a motion picture back home in the Philippines with a rap single and a sitcom on his docket when he returns from Las Vegas. God damn, I really hope Barrera crushes him.
Although I consider myself a fan of Barrera, my favorite person in the ring is referee Tony Weeks. I've often said that you won't find many better referees in any sport that do their job as well as Weeks. If you don't think this is relevant than you simply don't understand the sport. Pacquiao and Barrera (especially Barrera) are putting their health, well-being, and their lives in the hands of the referee and nobody has better control of a fight than Mr. Weeks.
Round 1 The fighters approached each other with caution in the first frame. Barrera landed a couple of solid shots but Pacquiao was able to get the upper hand behind his jab and those devastating straight left hands. Barrera was able to score to the body and head but I have to give the round to Pac Man and his straight left.
10-9 Pacquiao
Round 2 Barrera is showing what makes him the vastly superior technician but Pacquiao has the power and he's not afraid to throw it around. The fight is staying at a pace that Barrera can handle which is one thing that never happened in their previous encounter. Pacquiao has put a few punches together but he's yet to flurry the way he did four years ago. Another close round, but Barrera's consistent work stood up against Pacquiao's brief moments of dominance.
10-9 Barrera
19-19
Round 3 Halfway through a Pacquiao-heavy third round Barrera caught an off-balance Pac Man with a jarring overhand right (preferred punch of "Irish" Terry Conklin). Pacquiao is clearly the aggressor in the ring but he's starting to look jumpy. Regardless, Pacquiao forced the action and landed twice as often.
10-9 Pacquiao
29-28 Pacquiao
Lederman has it as a shutout. Dick.
Round 4 Barrera finally finds a spot where he's comfortable going toe-to-toe with his heavy-handed opponent and it pays off. Barrera took his share of punishment in the exchange, but for a brief moment Pacquiao felt some of the Baby Faced Assassin's old power. Unfortunately my underdog failed to press the action in the second half of the round. Not only did Pacquiao land the cleaner punches but he also maintained complete control of the fight's tempo. It's going to be nearly impossible for Barrera to win another round if he continues to get out-worked like that.
10-9 Pacquiao
39-37 Pacquiao
Jinkee Pacquiao, lookin' good.
Tony Weeks is single-handedly bringing back the fade.
Round 5 Wow, what a fantastic round Barrera decided that he wanted to be a part of the highlights. It all started when he was tagged with a two-punch combination and answered with a small flurry. At one point it looked as if Pacquiao was hurt by a right to the jaw, but he characteristically bounced back and continued to walk his opponent down. That was probably Barrera's most effective round of the fight, but Pacquiao still out-landed him by a respectable margin. Lampley thinks Barrera might have taken the round (his first according to the big man) but I'm calling it a draw.