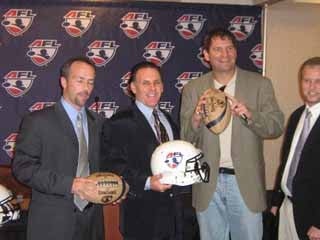 Good news, everybody! The Arena Football League (motto: It's Like Football In Your Garage, Only Without The Danger Of Sharp Tools) is coming to Cleveland! And Bernie Kosar will be the team president and CEO. The team will retain the name Gladiators until they come up with a better one. Any ideas?
Today the owner of the Las Vegas Gladiators, Jim Ferraro, announced he is relocating the team to Cleveland - and that former Browns great Bernie Kosar will be the team president. The team will begin play next summer at Quicken Loans Arena.
Of course the inevitable last-second playoff losses to the Colorado Crush will be tough to take at first, but you'll soon get used to it, Cleveland fans, just like always.
Want season tickets? Dig in.
Cleveland Joins The Arena Football League [AFL.com]
The Colorado Crush