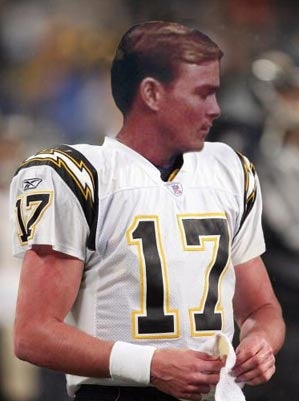 Big Daddy Drew's Thursday Afternoon NFL Dick Joke Jamboroo previews the upcoming weekend of the NFL every, well, every Thursday afternoon.
It's a jam-packed Jameson-fueled Jamboroo this week, so I'm not wasting any fucking time. I've got puds to pull and douchebag quarterbacks to insult from the safety of my home like the gutless coward that I am. This week's installment also features 40% more gratuitous profanity, which I'm really fucking jazzed about. So let's dive right into the games, shall we?
The Games
All games in the Jambaroo are evaluated for sheer watchability on a scale of 1 to 5 Throwgasms.
Five Throwgasms
Colts at Chargers: I watched the Chargers play last week, and I think there's a highly underreported story going on in the NFL this year. And that is that Philip Rivers is a douchebag. Big douchebag. HUGE douchebag. He's the kind of fuckhead that wears Nantucket reds to a cocktail party and then pinches your sister's tits. He's the kind of shit-eating cockgobbler that throws Bacardi Silver peepee parties with JJ Redick. He's the kind of guy who ends up working at an investment bank and spending his weekends beating his girlfriend as she tries to put herself through graduate school. I know the type. I live in Washington, okay? There are loads of these douches here, overcrowding the bars, rocking visors and running the Federal government.
Rivers is the kind of douchebag that, quite literally, stomps his feet when things don't go his way during the game. As Ufford once said, "He looks like the kind of asshole who treats waitresses like shit, then stiffs them." We should make this prick an honorary lacrosse player. Norv gets his fair share of blame for what's going on in San Diego. But Rivers deserves equal ire. IRE, I say! You're ruining LT with your inaccuracy and your cattiness, Rivers! And I'm calling you out!
In fact, I'm gonna give Rivers a new nickname. Rivers, from now on, your name is fucking Marmalard. Don't like it? Well, go cry to the officials about it. It's all you do anyway. Fucking Marmalard. Maybe you and Jimmy Clausen can go bowling sometime.
Cowboys at Giants: Say, isn't this just about the time of year when the Giants suddenly give up on Tom Coughlin? (checks watch) I believe it is. Tank Johnson is back for this game. Michael Strahan has already scheduled a special "Arsenal Consult" with Tank once the game is over. Jean Strahan won the battle, but I tell you, she's not winning the war. I'd let the butler start the car for you from now on, sweetheart.
Browns at Steelers: After having their fun with two teams from the Mountain NFC West, the Browns get a second chance to prove themselves against a Steelers team that curb-stomped them 34-7 to start the year. Ah, but that was before the emergence of Derek "Horse Balls" Anderson! HB isn't scared of you and your brawny, virile coach, Steelers. He had the toes on his left foot sheared off in a Flexible Flyer accident at age 5. Motherfucker didn't even blink. You think that 3-4 defense scares him?
Four Throwgasms
Vikings at Packers: I've heard a lot of commentators (looking your way, JC Pearson) refer to Adrian Peterson as a good "downhill runner." Football analysts have a lot of idiotic expressions, but "downhill runner" has to be near the top. Last I checked, an NFL football field is flat. It is not on a fucking incline. Perhaps one day, moguls will be introduced to the red zone. Then you can boast of Purple Jesus' ability to run down a goddamn slope. But until that kind of topological diversity is introduced to the league (the asshole who thought up the London game adores the idea), there's no such thing as a downhill runner. If you want to say he's so fast he appears to be running downhill, say that. And if you want to say that Shaun Alexander is so slow he appears to be running uphill, go right ahead. Both statements are accurate.
In other Purple Jesus news, I strongly recommend you read Ufford's piece at FreeDarko on the man (now with 50 percent more flowery metaphors!), and purchase yourself a PJ t-shirt from 289.
And lest I get too homerific here, a quick note on the Packers. One of the reasons Brett Favre has been so good this year is that he has his best complement of receivers since 2004, which was Javon Walker's last good year with the team. Greg Jennings does a pretty nice job outrunning people. Surely he should get in on a little bit of the media knobslobbing. He shouldn't have to jerk off in the corner while Peter King works his magic on Favre's "Mississippi Rebel." Share the love, people.
Three Throwgasms
Eagles at Redskins: Uh, shouldn't Andy Reid have quit by now? Oh, your kids were busted running drugs right out of your home, Andy? Well, I'm sure you can find some free time during your 100-hour workweek to set them right. Shouldn't be any trouble at all. Holy Jesus.
One thing Reid could do is fine and suspend his sons for conduct detrimental to the family. Then he could release them at the end of the year. The Dallas metropolitan area has had a real shortage at Crackhead ever since Michael Irvin left, and they're willing to pay top dollar.
Jaguars at Titans: Last week's 1 p.m. games felt extra late because of Daylight Savings Time. I find it interesting that Congress has the power and ability to manipulate time itself, yet they can't pass a simple budget bill without fucking it up.
Two Throwgasms
Broncos at Chiefs: A friend of mine who is a Bronco fan would like to point out that the Broncos were 41-17 with Jake Plummer and are 5-8 since his departure. Ah, but my friend fails to realize that those 17 losses with Jake at the helm were just fucking excruciating, with late fumbles and picks and God knows what else Jake had planned for the afternoon. Losing 44-7 to the Lions with Patrick Ramsey at the helm isn't fun, but at least it's over quickly and painlessly.
Bengals at Ravens: Hey, everyone! Chris Henry is back! I heard that Odell Thurman is giving Henry a ride to the stadium Sunday, and that he stocked his '76 Continental with lots of paper towels and Pine Sol. Smart move, Odell.