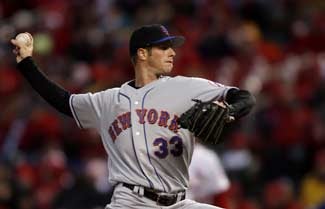 If we know anything about baseball players, we know that they love to dress up in women's clothing. This is a verifiable fact, as true as the nose on your face and the whet of your whistle. Witness Exhibit 2732-A, Mets pitcher John Maine.
Apparently, at the opening of a Manhattan nightclub on Thursday, Maine was paying women to try on their dresses.
The Virginia-born ball-hurler later approached PageSix.com and asked to test-drive our frock as well. "I'm John Maine. I pitch for the Mets! I'm a hot piece of ass!" he kept repeating. He said that he was on his way to a drag party later that night. "Come on, I'll give you $200 to try on your dress," he begged. "Just to take a picture. It'll be fun."
The "PageSixer" with the scoop — and the dress — is actually former Deadspin correspondent Noelle Hancock, and we can confirm: She totally doesn't let anyone wear her dresses. Even if you pitch for the Mets and are, in fact, a hot piece of ass.