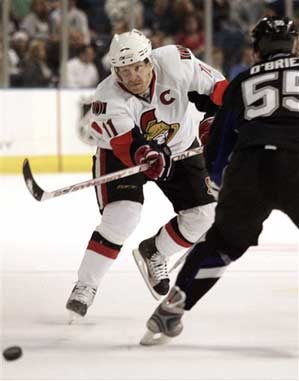 We are proud to welcome famed hockey journalist James Mirtle to the post of NHL Closer writer this week.
Senators Lose Seven In A Row, Oppose Goalie Marriage. I'm afraid it's a very special Canadian Closer™ today friends, with four back bacon-filled teams battling the evil American empire in Montreal, Toronto, Calgary and Tampa last night. (Which one of these is not like the others, which one doesn't belong...) Ottawa came back in the third period but lost 4-3 in a shootout in Tampa, continuing the team's longest losing streak since the year the Lightning crammed 28,183 hockey fans (every Canadian vacationing in Florida) into Tropicana Field (then known as the Thunderdome) for a game. Mad Max approved.
The Parade Will Begin At The Brass Rail. The Maple Leafs have had perhaps the strangest season of any pro sports club in recent history: Nude photos of rookies on shady corners of the 'net, a GM who can't fire his coach, a president saying he hired the wrong GM (but failing to fire said GM), and a fanbase that continues to fork over $400 a night to eat sushi and watch one of the worst teams in hockey. But Wade Belak did score his first goal in almost four years last night in a 3-1 win over Nashville. (Not counting a stint with something called the Coventry Blaze of the English Hockey League.) I then put a car flag on my tricked out Pacer and headed for Mirtleville.