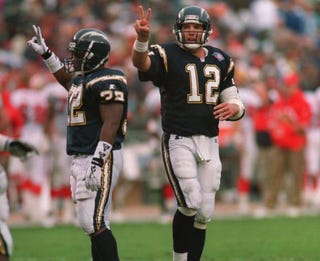 Stan Humphries is in your face right now. He was quarterback of the Chargers the last time they made the AFC Championship game, back in 1994. If these Chargers can replicate their performance against the Colts earlier this year, they'll accomplish just that. Of course I am talking merely about San Diego but only because everybody else is ignoring Indianapolis, or something, while simultaneously saying they're going to win this game easily. Ooh-kay. The live blog happens now, after the jump.
(Photo from Viewimages.)
——————————————————————
Second Quarter
0:03 — What we just had here was the play of the game. Manning's throw was deflected and intercepted by Antonino Cromartie. Even though a holding play negated the touchdown, he ran 89 yards into the end zone. If nothing else, it was amusing to see if Peyton Manning would be able to overcome two Chargers blockers and take down Cromartie. Rivers kneels and it's sandwich time.
0:36 — Indianapolis aims to get within field goal range, and they appear to be doing that with little resistance.
1:46 — Nate Kaeding rattles the crossbar, unfortunately field goals only count if they go between the two yellow posts. Bob Sanders practically hops on Kaeding's back after that play, visually expressing his pleasure in Kaeding's humiliation, which I'm pretty sure you can't do. Sure enough, Sanders gets a taunting penalty. The field goal miss still counts, and the Colts just get backed up 10-ish yards.
1:50 — Now Rivers is on a roll. Two straight incompletions.
1:56 — Rivers' first true incompletion. Vegas sportsbooks had that line all wrong.
3:38 — Rivers makes his eighth completion, this one to Vincent Jackson, who has half of them. He's 8-for-9, with that lone bad pass being an interception. Technically, every one of his passes have been caught.
5:14 — I was going to whisper Vinatieri's name, but he's just getting a field goal, so I'll have to think of something quieter than a whisper. How about closed captioning?
++++VINATERRY KICKS A FIELDGOAL, COLTS TAKE THE LAED++++++

7
10

5:59 — Manning's pass was almost stolen by Shawne Merriman, but the ball rattled off his abdominal abscesses.
6:05 — There's a shot of Colts offensive coordinator Tom Moore. I'm sorry, but Tom Moore doesn't look like a football guy. He has the casual gumption of a baseball manager.
8:44 — <whisper> ...jackson... </whisper>

7
7

9:12 — Tomlinson learned the hard way that trying to spike Robert Mathis's head with the football will usually result in a fumble. Fortunately, the Chargers recovered when a lineman was standing in the end zone with the football, away from the pile. It's almost as if the refs were ignoring him, digging for any evidence that dictated he didn't have the football. They did find a bottle cap and an empty cigar box, however.
9:41 — The crowd noise has officially drained the San Diego reservoir of timeouts. They now have to conserve all remaining time by boiling it.
12:09 — After a delay of game, it almost happened again, but Rivers somehow scrambled throughout the pocket and threw a bad ball to convert a long first down. Zuh? Oh, then he followed that pass play with another pass play to Antonio Gates.
First Quarter
0:00 — Wait, that was the first quarter? Is it Monday? Oh, crap, I'm late for work.
0:54 — Now Harrison touches the ball. But... ooh, not for long. After the catch, Harrison drops it, and San Diego fans feel a sense of hope and optimism. And that's when they realized now Rivers will handle the football.
3:08 — Marvin Harrison hasn't touched the ball yet, but Manning's already 9-for-9 in passing. Just like Tom Brady!
6:24 — I should type faster. Rivers throws to a guy in a blue jersey named Kelvin Hayden. Norval Turner wants a review, because the ball might've been moving around between his hands and torso. The ref, after review, disagrees and confirms that Philip Rivers just killed their opening drive and ruined Christmas.
6:35 — San Diego, too, advances the ball succesfully past midfield. Rivers looked un-Riversly on a big pass to Vincent Jackson, then a nice screen pass to Tomlinson.
I totally didn't expect a new Peyton Manning commercial during the Colts game. But in all seriousness, I didn't expect Eli Manning to be in it as well. Licking Oreos for sport seems more like a Cooper Manning thing.
9:13 — <whisper> ...clark... </whisper>

0
7

10:28 — Colts convert a 4th and 2 on a little slant route to Reggie Wayne. Dan Dierdorf reminds us that Manning is 5-for-5 to start the game, just like Brady was! I know! I remember!
12:11 — After moving the ball well past midfield, Manning gets shoestring sacked by Shawne Merriman, and is it? Yes, it's that frilly little dance.

Pregame Babble
Absolutely nobody on TV appears to be picking San Diego to win. Nor are they thinking it's going to be close. That's what I was afraid of. I was kind of hoping for one of those "interesting games," you know, the ones where the announcers during fourth quarter are talking about the fourth quarter and not about what the losing team has to do next year to return to the playoffs.
That's not to say I'm calling a San Diego upset. In fact, I don't think I'm going to call any upsets for the rest of the playoffs. I'll take the Colts by 8.