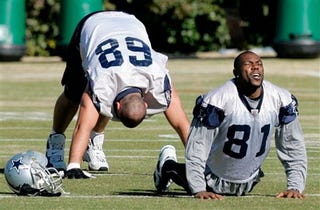 Well, it's going to be hard to top the excitement on that Chargers upset, but there's only one way to find out: guesstimation. No it won't! It won't be as thrilling! But hopefully it's fun enough to sit through another live blog, because that's what's gonna happen.
I don't know if Terrell Owens and Doug Free are prepared to handle the Giants defense, but they do look they perfected The Worm. Somewhere, Johnnie Morton is smiling.
————————————————————————————————

Second Quarter
0:07 — Manning zips it to Toomer right in the middle of the field, and suddenly the game became tied somehow. I, for one, am shocked that Roy Williams would push and shove anybody after the whistle.

14
14

0:11 — Kevin Boss receives the ball and is out of bounds at the 4-yard line.
0:28 — Smith catches another one, and this time his head has no choice but to turn left thanks to Reeves tugging on the mask. Now Eli can just heave ugly throws into the end zone and see if anyone wants to catch it.
0:34 — Even the football fluttered in the air like a poorly-knit beanbag, Manning's throw connects with Steve Smith for 22 yards.
0:53 — Barber appears to have made it into the end zone. They're reviewing it, but i highly doubt it gets reversed. And instinct turns out to be accurate.

7
14

4:12 — Cory Webster was caught off guard by the fact that Romo threw the ball right at him, and he couldn't get control of the pick, and it falls harmlessly to the ground. Which makes Webster a perfect candidate to be a Lions receiver.
6:15 — Terry Glenn receives a little standing ovation for nabbing his first catch all year, which goes for a first down. I had no idea Terry Glenn was hurt, let alone back from injury.
So now the pregnant lady is teasing her husband with a bite of her Taco Bell taco? If he wanted a taco so badly, then he should have made the Taco Bell run himself so he could have... wait a sec. The guy's just an idiot. But I don't know who's a bigger idiot — the father-to-be in the commercial, or the nutjob deconstructing a commercial for fast food.
9:14 — Romo scrambles for a few yards, then some large linemen argue a little bit over whether it was a good idea for Romo to go to Mexico with Jessica Simpson, I'm assuming.
11:21 — Feagles has to punt again, and it's inside the 20, which'll put it inside the 10 after Sam Hurd was caught committing some type of unspeakable penalty.
13:32 — Greg Ellis, the NFL Comeback player of the year, came too quickly, which is usually a feat you don't want anyone to see, but everybody saw him go offsides on a 3rd down for New York. The drive goes on.
14:56 — The first play of the quarter, and Owens grabs a touchdown in the side of the end zone. A cute widdle kid gets the ball handed to him D'awwww. Coughlin's Red Flag Of Objection gets tossed onto the field. The challenge was unsuccessful.

7
7

At this point, everyone has to know failed American Idol contestants are singing poorly on purpose. None of it's unintentional anymore. At this point in history it's just slightly higher-rez YouTube.
First Quarter
2:36 — Marion Barber: Episode 3 effectively doubles Dallas's offensive yardage with a huge 36-yard run.
4:13 — It took over 10 minutes, but Tony Romo has a pass completion to Terrell Owens.
5:03 — Starting to lose interest already, and we're not even 15 minutes through this. Feagles had a snazzy coffin-corner punt, and Dallas will start at the 4-yard line.
10:10 — Dallas refuses to pick up a first down on their own merit, so they punt.
11:50 — Amani Toomer just caught and ran 52 yards for the touchdown. A fine start for N'yawk.

7
0

12:20 — They measure for the first down, and the Giants have it. Now, it's not cold in Dallas, yet Tom Coughlin's cheeks remain red. Until proven otherwise, I'll assume Coughlin uses rouge.
13:25 — Eli Manning's first pass of the game, and he throws it to ... a large vacant area. Large Vacant Area now has one catch for 23 yards.

Pregame Babble
We won't have our Manning Bowl. But a 2004 NFL Draft Blockbuster Trade bowl is still within reach. Unfortunately it doesn't have the same ring as Manning Bowl. But Peyton Manning can dedicate the extra time to practice his Oreo consumption, so that by next year... wait, this is about the Giants and Cowboys, isn't it?
I have no idea what to make of this game. My brain could simply be fried from the entire weekend, but I don't think anybody knows if Tony Romo can shake off the demons from last year, or if Eli Manning can recreate the performance from last year.
The FOX NFL studio foursome, they all pick Dallas. Wow, these are some creative predictions here. Frank Caliendo as President Bush also picks Dallas. Could we pass legislation to limit Caliendo spurts on TV to no more than 60 seconds? Whichever candidate does that this year has my vote. Please earmark a ban on calling them "the New York Football Giants." No need to discern anymore, it's no longer 1882.
All right. On Friday I actually said the Giants will somehow manage the upset. I don't want to go back on that, because already had our shocker for the afternoon, but I'm a man of my word, so Giants by 5.