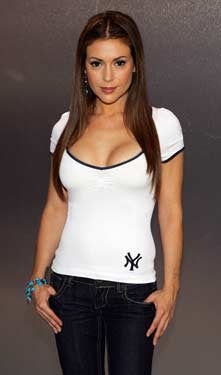 The NHL Closer is written by Greg Wyshynski, of The FanHouse and The Fourth Period. He is also the author of Glow Pucks And 10-Cent Beer.
Alexander Ovechkin told me last night that he'll "probably" be involved in this weekend's NHL All-Star "trick shot" competition, which is hockey's version of the NBA slam dunk contest, only relevant. "Just slap shot from blue line. That's it," he predicted, with a laugh. So it's nice to see someone's having a good time with the All-Star Game, because based on attendance and general disposition, many of his peers feel it's an inconsequential nuisance getting in the way of a four-day weekend. Call me old fashioned, but I dig the goofy fun of NHL All-Star Weekend, even if the sport's definition of "star" has been stretched like taffy and the regular season shootout has sucked nearly all the novelty out of the skills competitions. Here are five good reasons why you should dig it too, beginning with the participation of one of my favorite athletic supporters: Alyssa Milano, star of "Poison Ivy 2: Electric Boogaloo."
On the hotties at the All-Star Game scale, she's way above Jewel (2002), and thankfully delays the inevitable Avril Lavigne appearance. There's no questioning Milano's dedication to hockey — she gave it up to Wayne McBean, for God's sake. There's also no questioning that, as Daulerio opined, "her allure is timeless, considering her career ascension has matched up perfectly with most 30-something men's sexual awakenings." Many of us fell for her as Sam Micelli; I think it was the naked lesbian vampire movie that did it for me.
The still-lovely lass will be in Atlanta to co-host (I guess Alan Thicke and Jason Priestley were busy) some charity event on Saturday morning that also features Usher, Tim from "Friday Night Lights" and the Hanson Jonas Brothers. She's also going to debut an NHL-licensed version of her clothing line, because there's nothing a Major League Baseball pitcher likes more than seeing a giant Columbus Blue Jackets logo as he's slowly undressing Alyssa Milano.
Other reasons why you should give a damn about the All-Star Game:
2. The aforementioned "creative shootout" in Saturday night's skills competition. Celebrity judges include noted hockey enthusiast Dominique Wilkins and Tom Glavine, fresh from his tour as an Atlanta Braves sleeper agent in New York.
3. Mic'd up goalies. Everyone has their favorite all-star moment — even Linda Cohn. One of mine was Marty Turco wearing a wire and being interviewed by the booth during play last year — literally answering questions between shots. The wacky Manny Legace and the job-secure Rick DiPietro will be mic'd up this weekend. If DiPi talks smack about either Lundqvist or Brodeur not being there, I may have to buy an Islanders jersey.
4. The Pain Potential. There were more checks in Tom Tancredo's campaign war chest than there are in a typical NHL All-Star Game. But with Zdeno Chara, Dion Phaneuf, Chris Pronger and Ed Jovanovski on the ice, there's always the chance for some knucklehead shenanigans — or a straight-up Phaneufing.
5. The Hives are playing "Tick Tick Boom" to open the game. FACT: The band is from Fagersta, Sweden. FACT: If ya don't love Pelle Almqvist, you've got no love in ya. (I just realized how Buccigrossian this must have sounded. Apologies.)
Seven and Suspended. On any other night, Daniel Alfredsson's seven-point game — a team record-setting performance that saw him score goals three different ways and tally points on Ottawa's first six goals of its 8-4 win over Tampa Bay — would have been the lead headline. But, alas, it's Big Georges Laraque's controversial check from behind on Philly's Steve Downie in Pittsburgh's 4-3 loss that takes the taco. BGL received a five-minute major and a game misconduct, but said after the game that "it almost looked like he dove ... he was laughing after it." Flyers coach John Stevens called it an "extremely dangerous play" and defended the virtue of Steve Downie, leading some to ask if he's out of his goddamned mind. Judge the hit for yourself:
Puck Headlines
* Someone believes the Ottawa Senators have some sinus issues. Boy, I sure do hope they blow over. [The Universal Cynic]
* Make the playoffs or kiss-off Jagr? Decisions, decisions... [FanHouse]
* Speaking of the Rangers: Sean Avery in Vanity Fair. "Reports of his club-hopping and active love life have restored a touch of glamour to a sport sorely lacking any." Sadly, no Annie Leibovitz portrait of Avery spearing Darcy Tucker. [Vanity Fair]
* The MYFO boys get into the mind of all-star Zdeno Chara, and poop on Versus for spelling his name wrong in promotional materials. [MYFO]
* Finally, I think we can all agree that some dude giving game-by-game breakdowns of his season of NHL '94 on the Sega Genesis is a keen idea for a blog. [I am the best in the world at NHL '94]