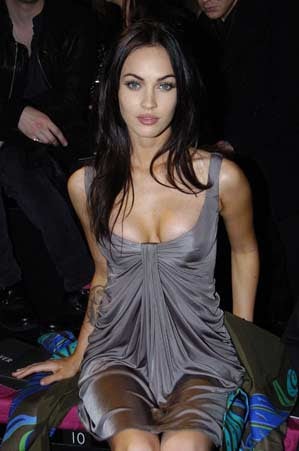 Since tedious analysis is the stuff of "power rankings," each Monday NHL Closer writer Greg Wyshynski uses a form of universal expression: Success in terms of beer. Before we get to how wickedly selfish Mats Sundin is, welcome to The Brewmeister Ratings...
Winner No. 1: Your Three-Time Stanley Cup Champion New Jersey Devils. An undefeated week, including yesterday's OT game-winner by John Madden in Washington, has propelled the Devils into first overall in the Eastern Conference. As both a Devils fan and a Jersey-bred cynic, color me flabbergasted — Marty Brodeur's been playing behind a defense with the solidity of wet Charmin, and the team's second-leading scorer is two years removed from the Hep. (Thanks, Ashton.) Another Stanley Cup for Jersey? Yeah, the NHL wants that about as much as the people of Newark wanted a hockey arena. The Beer They'd Be: An ice cold Dogfish Head 120 Minute IPA served in the lap of lovely actress Megan Fox, whose film "Transformers" was absolutely robbed at last night's Academy Awards. And yes, I'm talking about that hack Javier Bardem stealing Bumblebee's Best Supporting Actor gold, friend-o.
Winner No. 2: Calgary Flames. At the beginning of the season, Miikka Kiprusoff wasn't in game-shape; he was pretty much in Will Ferrell shape, giving up 35 goals in October and seriously fucking at least one team in every fantasy league in North America. But now, it's game-on: He gave up two goals overall in wins against Phoenix, Detroit and Minnesota over the last week; a 4-0 stretch for the now first-place Flames in the Smythe Division. Raise your hand if you thought Mike Keenan would remain this sane this late in the season. The Beer They'd Be: A case of freshly-brewed Sleeman Cream Ale that Theo Fleury used to stash in the Zamboni ice shavings at the Saddledome.
Loser No. 1: Philadelphia Flyers. Look, I picked on the Flyboys enough last week, so no need to kick any more sand in their face. But what sort of karmic blunder did this team perpetrate to go winless in 10 games and lose both Simon Gagne and Mike Richards during that stretch? Kick a puppy? Punch a nun? Criticize Obama's optimism? The Beer They'd Be: A warm, half-filled brew some college kid partially ralphed in while leaving a show at the Electric Factory.