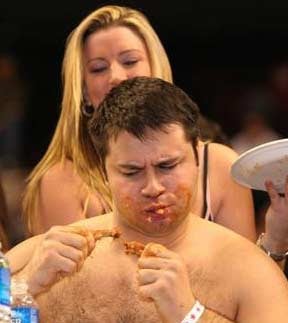 The NHL Closer is written by Greg Wyshynski, of FanHouse and The Fourth Period. He is also the author of Glow Pucks And 10-Cent Beer.
Ass-whupping would be putting it kindly. The Washington Capitals scored six goals in the first period last night — including an Alexander Ovechkin hat-trick that gave him 52 on the season — in a 10-2 obliteration of the previously streaking Boston Bruins. But here's the real news: The Capitals run a promotion with a restaurant called Austin Grill in which every fan in attendance at a home game where the team scores six or more goals wins a free one-pound order of dry-rubbed, mesquite-grilled Austin Wings the following day. Unstoppable offense plus an uncharacteristically large Monday night crowd equals 17,189 pounds of wings today.

So I asked Ovechkin and defenseman Mike Green after the game what it felt like to deliver such a carnivorous bounty to their fans ...


Let's get the obvious out of the way first: The Romovechkin chatter is done, and the Hart Trophy discussion is at full volume for Ovechkin. Last night's performance was his Oscar clip, even if it was shown on the Buck Huntin'/Cage Fightin' Network. All the Capitals need do is make the playoffs ("Not a chance in hell." - E Staal) and the hardware is his. So, Alex, do you think the fans went home happy last night?
"We score 10 goals today, so probably happy right now. And they have, by the way, free chicken wings. A pound," he said.
I explained that it could potentially add up to over 17,000 pounds of chicken wings for the fans. And what did Ovechkin think about bestowing this delicious gift on the masses? "Pretty good."
Meanwhile, his little buddy Green (one assist) was unaware of the promotion, so I explained it again: Score six goals, and everyone in the place that has a ticket stub gets a free pound of chicken wings. So, conceivably...
"If I score six?" he asked.
No, if the team scores six, knucklehead. So, conceivably, Austin Grill might be out 17,000 pounds of chicken wings because you guys scored 10 goals tonight.
"Is that a joke?"
No...no, it isn't. So how does it feel to be partially responsible for costing the good people at Austin Grill 17,000 pounds of their own precious meat?
"That's what you get, I guess, for putting something like that on the scoreboard. You gotta know what you're puttin' up there," said Green. Truer words were never spoken.
Duck That Repeats on You. Seems like old times: Anaheim beats a floundering, overmatched Ottawa team, and the Senators so something classless. In last year's Stanley Cup Finals, it was Daniel Alfredsson doing his best Elmer Fudd and taking a shot at Scott Niedermayer. Last night, it was the man who was allegedly going to lead the Senators to salvation who went nuts-o: Coach Bryan Murray was given a game misconduct after he doth protest the zebras too much. "I just kept telling (referee Wes McCauley) it was a bull—-t call. 'That's a bull—-t call you made. He said, 'Say it again and you're gone,' so I said it again," said Murray after the game. Oh, but it gets better for Ottawa: Alfredsson left the game with the ever-nebulous "upper-body injury" following a Francois Beauchemin cross-check. As for the Ducks, they're an unbefuckinglievable 11-1 since Teemu got off the couch. They win the Cup again this season, and every former 30-goal scorer over the age of 35 is going on The Niedermayer/Selanne Semi-Retirement Plan.
Craig Anderson Is Horny. Remember yesterday's Closer? Me neither. Evidently, I ran a photo of Florida goalie Craig Anderson leering at two New York Islanders Ice Girls during his 53-save performance at the Coliseum over the weekend. Well, the good folks at The Empty Netter point out this isn't the first time one of the Long Island lasses has caught his eye. Perv-o-riffic: