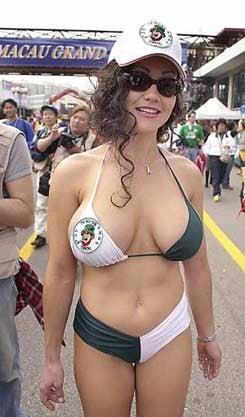 Since tedious analysis is the stuff of "power rankings," each Monday NHL Closer writer Greg Wyshynski uses a form of universal expression: Success in terms of beer. Before we get to a steam-rolling in Pittsburgh, welcome to The Brewmeister Ratings...
Winner No. 1: Anaheim Ducks. The Ducks went 2-0-1 last week, inching closer to San Jose's division lead and earning home ice (for the moment) in a potential first-round playoff Thunderdome with Dallas. But the real reason they're winners is because Chris Pronger survived Day Two of his skate-stomp story; receiving just an eight-game suspension despite the protests of the prissy, bitter Canadian victim culture and noted psychopath Chris Simon, who believes Pronger was given preferential treatment, probably because he never confused Ryan Hollweg's skull for a Whiffle ball. The Ducks will get Pronger back for the season's most important games...until his next inevitable Thug Life incident in the playoffs. The Beer They'd Be: A tasty stout served up by a lass who really, really, really knows how to dress for an Irish parade.
Winner No. 2: Florida Panthers. A month ago on the improbability scale, the Panthers making the Wales Conference playoff cut ranked somewhere between Eliot Spitzer getting taken down by a slightly-more-masculine Sandra Bullock and Astronaut Jones offering a more eloquent defense of Barack Obama's presidential bid than Barack Obama has. And yet all three may just become a reality. Florida had an undefeated week, and along with the Capitals are two points away from catching the Flyers for the final berth. Here's a team with a Finnish scorer that's been mentioned more as trade bait than a legit star; a loathsome coach who looks like an extra from "The Secret of NIMH"; a roster populated with names that read like rejected 1970s TV detective series ("Bouwmeester!", "Montador!"); and a back-up goalie who can't stop creepily leering at Ice Girls. What's not to love? The Beer They'd Be: An ice cold Dos Equis, consumed quietly as you watch the models frolic in South Beach.