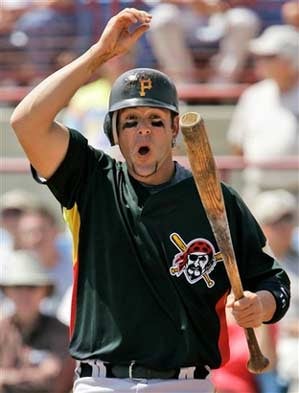 For the third consecutive season, we are proud to introduce the Deadspin Baseball Season Previews. Yes, baseball is awfully close now; it's spring training, after all.
Every weekday until the start of the season, a different writer will preview his/her team. We asked a gaggle of writers, from the Web, from print, from books, to tell us, in as many or as little words as they need, Where Their Team Stands. This is not meant to be factual, or dispassionate, or even logical: We just asked them to riff on why they love their team so much, or what their team means to them, or whatever.
Today: The Pittsburgh Pirates. Your author is Don Spagnolo.
Don Spagnolo is a freelance writer and editor of Mondesi's House, a Pittsburgh sports comedy blog. His words are after the jump.
——————————————-
16 Reasons Why the Pirates' Streak Won't End in 2008
I sat in this spot last year and labored through not one, not two, but 79 reasons why it's hard to be a Pirate fan. The research alone for that article made me question why I still bother with this organization. Of course, that in itself was the answer: they're a gold mine of comedic material, whether they try or not.