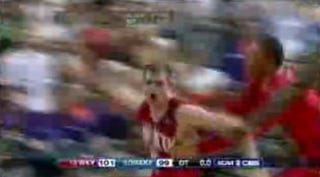 • Eliot Spitzer and David Hirshey, soccer pals.
• Our new "pal," Bob Costas.
• Apparently, some folks aren't happy with ESPN.
• Kige Ramsey, charity hero. (Oh, and no bids yet.)
• Mark Cuban remains the only blogger allowed in the Mavs' locker room.
• Hey, the brackets came out.
• We had a few game previews.
• Onions!
• The perfect bracket will never happen.
• We are headed to Milwaukee!
• Willie Mays nude!
• So close, Belmont.