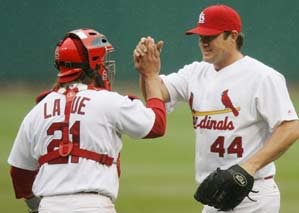 • Opening Day!
• President Bush would have been a better commissioner.
• Look: Daulerio works here now.
• Matt Leinart once, and Matt Leinart twice.
• Andy Roddick, doing OK for himself.
• We miss Davidson already.
• Stuart Scott on the microphone.
• Joel Zumaya, bringing rock.
• Larry King really, really wants his kid to win.
• How to avoid a DUI.
• Goodbye, Chris Henry.
• Davidson's blue balls. Oh, and Stephen Curry's mom.
• Steve Lyons' questionable litigation.
• Rick Reilly, on and on.