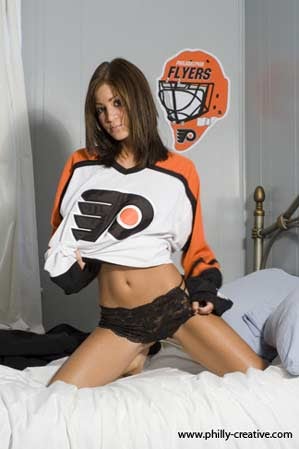 NHL Closer writer Greg Wyshynski previews the 2008 Stanley Cup Finals right up until they drop what is commonly referred to as "the puck."
No. 3 Washington Capitals (43-31-8, 94 Points; Last made the playoffs with a guy named Cassidy behind the bench and a guy named Jagr on the ice) vs. No. 6 Philadelphia Flyers (42-29-11, 95 Points; Hindenburg-on-skates last season)
The young lass pictured here is Stormy, who was named "Philly's Hottest Flyers Fan" two years ago by rock station WMMR and hopefully has been treated well by both time and gravity since then. Besides some welcome eye-candy — even with the presence of the Flyers jersey —she's included here to help make a salient point: That there hasn't, to my knowledge, been a competition to find the sexiest Washington Capitals fan; Google "hottest Capitals fan," and one of the first hits is for a hot-dog eating contest, which is either completely contradictory or oddly ironic.
This isn't because the Capitals don't have attractive hockey fans (they do) or that D.C. doesn't have a decent rock station (it does). It's more indicative of the seditious attitude that's uniquely Philly, and carries over to the ice in the form of this year's Flyers: Characterized as a collection of thuggish barbarians since their flurry of suspensions to start the season and through Scott Hartnell's mission to take out Sidney Crosby last week. While the focus should be on Ovechkin's first journey into the postseason spotlight, it has shifted to what dastardly tactics the Flyers will use against him and his Capitals. NBC's Pierre McGuire expects the series to be "one of the bloodiest" and "downright ugly."
Looking back at the playoff history between the teams, there will be blood. But you don't have to dip all the way back to Scott Stevens and Jeff Chychrun to measure the animosity between these two franchises; hell, Ovechkin's first NHL fight was against Mike Richards of the Flyers.
So, for a moment, let's wallow in the fantasy of crimson ice and battered bodies; of amped up crowds filled with Redskins fans and Eagles fans; of a true Patrick Division war of attrition.
Until, that is, we wake up and realize that just like every other Flyers playoff year since Ron Hextall stopped playing like an all-star, it all comes down to the goat-in-waiting between the pipes in Philly.
Key Match-Up for Washington: The Irresistible Force vs. The Immovable Object. The first stroke of bad luck the Capitals have had, at least since Nick Backstrom decided to join the Penguins for a few seconds, occurred when the Flyers jumped over Ottawa into the six hole. Washington had owned the Senators this season, and was rather evenly matched with them. Philadelphia offers some match-up problems for the Capitals: A little more offensive depth, a little more grit up front, and that infamous ferocious streak. While I don't believe this will be the rabid wolf-vs.-helpless-bunny showdown some fans think it is (two words: Donald Brashear), the Capitals will have to answer the bell against players like Steve Downie and Riley Cote.
Key Match-Up for Philadelphia: The Damper vs. Momentum. The Capitals enter this series having played a playoff game every other night since, roughly, the middle of January. I think at some point they hit the wall, and that point could very well be in Game 4 with the Flyers up 2-1 on their home ice.
Worst Case Scenario for Washington: The zebras only call one out of every three penalties against Philadelphia, Richards and Briere outscore Ovechkin and Semin, and Bob Gainey turns out to be correct that Cristobal Huet isn't a playoff goalie.
Worst Case Scenario for Philadelphia: The Capitals kick the living shit out of the Flyers in the first two games in D.C. and Marty Biron, who has as many Stanley Cup Playoff stats as Miley Cyrus, joins the long, sad history of Flyers playoff goalie flops.
Well, If You're Going To Twist My Arm: Flyers in six. All due respect to the Capitals, who've had a great season, but Biron's been in a zone lately and I'll take the Flyers' forwards against the Capitals' defense. As much as we'd all like to see an Ovie/Sidney conference final...