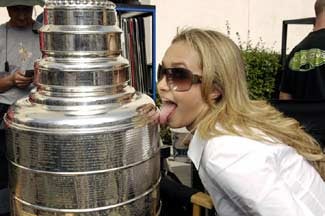 The NHL Closer is written by the five delightful gentlemen from Melt Your Face Off. When not writing for MYFO and commenting on Deadspin, the fellas enjoy spending time listening to songs that are a trip with a funky beat that they can bug out to. Enjoy.
There were five games last night, so we're not going to waste a lot of time and get right to the recaps. But one thing first: as the blue-eyed soul man Tom Jones* once sang, "Ain't no particular sign I'm more compatible with, I just want your extra time and your...
...kiss."
* may have been originally sung by some other dude
Less Action Than My Bedroom. A pretentious prude of a game, Montreal and Boston blocked 27 shots (with no broken cups!) and mostly stayed along the boards in the offensive zone. A few times in the second and third period, some Skol was slipped into the game's Shirley Temple, and she opened up, delivering some nice open ice hits and the game's only goal. Patrice Brisebois scored on the power play late in the second period, giving the Canadiens enough firepower to beat the toothless Bruins 1-0.