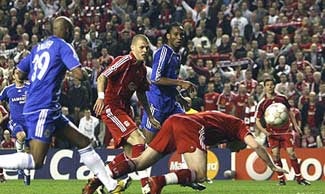 David Hirshey writes regularly for Deadspin about soccer.
Say this for John Arne Riise. As diving headers go, it was textbook, a classic, one for the year-end highlight reel. The Liverpool defender launched himself at the ball with fearless abandon and rocketed it into the top of the net. The keeper never had a chance.
Wait, did I mention it was his own keeper? And that instead of carrying him off the field, his teammates probably wanted to finish what Craig Bellamy started last year and take a nine iron to his face.