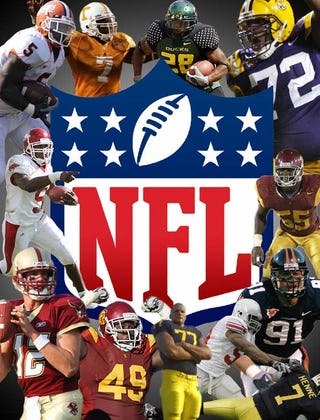 Big Daddy Drew's Thursday Afternoon NFL Dick Joke Jamboroo has been off since the end of the NFL season. But now, with Saturday's NFL draft looming, it returns, for one week only.
It's here? It's finally here? OH THANK YA SWEET JESUS, IT'S FINALLY HERE!!!! Every year, March rolls around and I think to myself, "Goddammit, where is the fucking draft already?" Yes, I know it's on the same weekend every year. But man oh man, does it take fucking forever to arrive.
It's been three full months without any football. Three long. shitty, rainy, cold months. I'd like to extend a hearty FUCK YOU to February, March and April, three months on the calendar that serve no purpose other than to slowly deprive me of my will to live. Especially you, April: with your half-sunny, half-rainy days, and your wild fluctuations in temperature. PICK A GODDAMN WEATHER PATTERN AND STICK WITH IT. I'm tired of needing a jacket in the morning, only to have the interior of my car hit 9000 degrees by the time I pull out of work.
I'd also like to extend a hearty FUCK YOU to people who snidely look down on the draft and on people who enjoy it. That means you, Mike Wilbon.
It's a nuisance, made-for-TV-by-TV event for people who couldn't tell a left tackle from a right guard, or zone from man-to-man coverage to save their mamas' lives.
Really? That's odd, because I've found that the draft is an event made specifically for people who can deduce such things. Like me! I know the difference between a left tackle and right guard. A left tackle plays on the LEFT! And has to protect the passer's blind side. And a right guard plays on the RIGHT! And sometimes has to pull! I knew that! Amazing, but true!
I also know that man-to-man coverage involves having the defensive player "cover" the offensive player one-on-one! Who would have thought a fan of the NFL might know basic things about the NFL? Surely, only a trained journalist could possibly know such things. And the biggest miracle of all is that I don't watch the telecast from my mother's basement!
Choke on Barkley's dick, Wilbon.
And you, Will Leitch! Yes you, you raging anti-draftite! You too can help yourself to a heaping spoonful of my dick milk. (Ed. Note: AGAIN?)